17.10.2013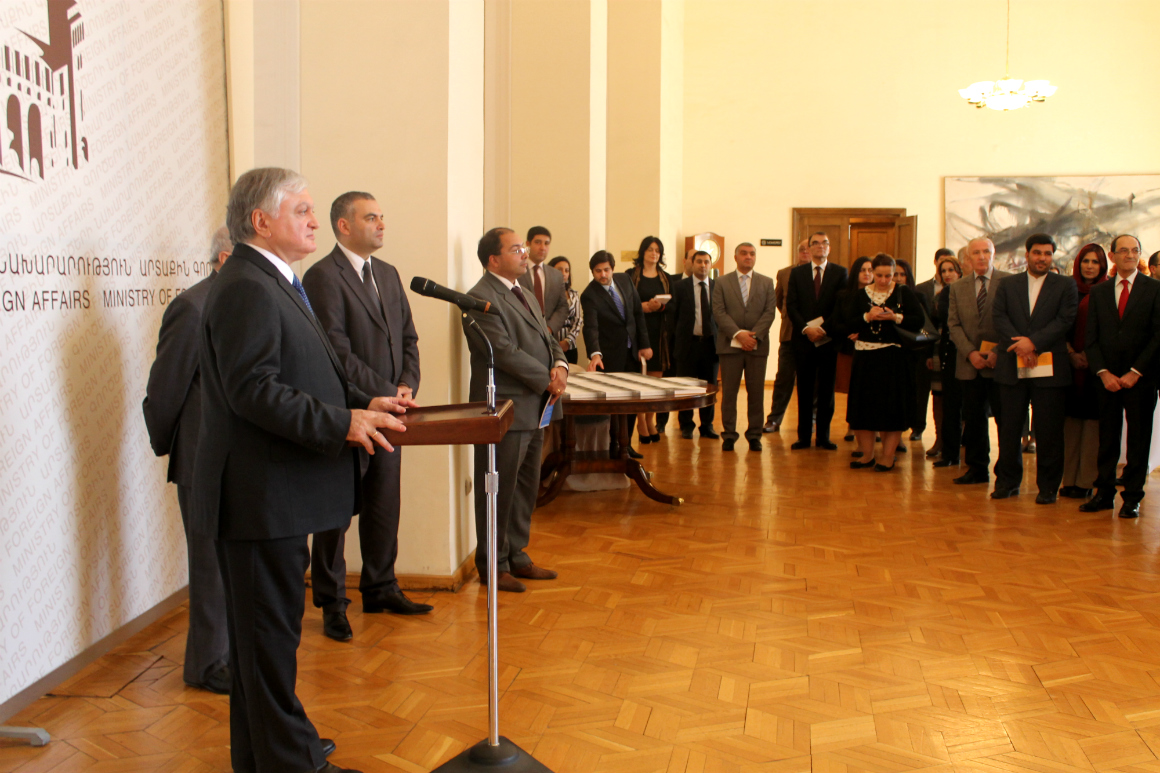 Today the presentation of a new book "Turkey's foreign policy and the conflict of Nagorno-Karabakh" by Dr. Hayk Demoyan, director of Armenian Genocide Museum-Institute, took place in the Ministry of Foreign Affairs. It was attended by foreign ambassadors and representatives of scientific and research circles.
Edward Nalbandyan, Minister of Foreign Affairs, delivered a welcome speech. Congratulating the author, the minister said: "I have read this new monograph of significant scientific value with big interest, and I am sure that it deserves the attention of not only historians, experts, diplomats, researchers interested in our region, but also the wide range of readers."
Nikolay Hovhannisyan, Professor of historical sciences, corresponding member of the Academy of Sciences and Arsen Avagyan, Head of the Neighbouring Countries Department of the MFA RA , Professor, and Doctor of Historical Sciences talked about the scientific value of the book. Nikolay Hovhannisyan stressed the value the work has among studies on Nagorno-Karabakh. Arsen Avagyan talked about the scientific and practical importance of the work.
In his speech Dr. Hayk Demoyan thanked the Ministry of Foreign Affairs for organizing the book presentation and mentioned that the work is the summery of fifteen years of his scientific research, and it covers the entire history of Turkish foreign policy adopted in respect to the conflict of Nagorno-Karabakh. He emphasized that the current work encompasses still unknown historical and archival documents put into circulation for the first time, and they shed light on the issue.
Dr. Demoyan mentioned: "Basing on an extensive material, it is substantiated that by taking Azerbaijan's side Turkey contributed to exacerbation of the conflict, and it continues to openly influence the negotiation process."
"Turkey's foreign policy and the conflict of Nagorno-Karabagh" is a study about Turkey's foreign policy in regards to Nagorno-Karabakh conflict that was adopted during the late 20th and early 21st centuries. The work also contains historical and comparative analysis.
The book includes analysis on Nagorno-Karabakh conflict, presented from the viewpoint of Armenian-Turkish relations and foreign policy doctrine of neo pan-turkism.
Materials from "Open Society Archive" (Budapest, Hungary), the British Foreign Ministry Archive (British Foreign Office Public Record), National Archive of Armenia, Armenia's Foreign Ministry's Diplomatic Archive and Armenian Genocide Museum-Institute Archive and other sources were used in this book.
The book is intended for experts, scholars, students and for a wide range of readers, who are interested in the causes of ethno-political conflicts arising in the Caucasus.
The book "Turkey's foreign policy and conflict of Nagorno-Karabakh" by Dr. Demoyan also was presented in Moscow, on 16th September, at the press center of "Arguments and Facts" ("Аргументы и факты") weekly .