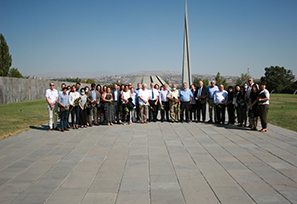 The three-day conference organised by the Armenian Genocide Museum-Institute Foundation, the National Academy of Sciences, Yerevan State University and the Society for Armenian Studies (SAS) "At the Crossroads of the Armenian Genocide, the Armenian Claims and the Artsakh Issue: Retrospective Evaluations and Prospects" took place on 16-18 September 2021. The first day of the conference was held at the Armenian Genocide Museum-Institute, the second and third days at the National Academy of Sciences.
The opening speech was delivered by AGMI Director Harutyun Marutyan:
"The second or 44-day Artsakh war started almost a year ago. It put the Armenians of Artsakh in existential danger; the statehood of Artsakh in general was in question. During the war, official statements by both Armenian and Artsakh leaders constantly made comparisons with the Armenian Genocide. Such fears were voiced in the conversations of ordinary citizens; people were constantly making comparisons with the Turkish-Armenian war of 1920 and also with the fateful treaties of 1921. However, today we have what we have. I am sure that the territorial losses are temporary; in many cases, the pro-Armenian solution of the complicated issues depends only on us."
Welcoming speeches were delivered by Academic Secretary of the Department of Armenology and Social Sciences of NAS RA Yuri Suvaryan, Director of the Institute of History of NAS RA Ashot Melkonyan and by President of the Society of Armenian Studies, Bedross Der Matossian via video call. A temporary exhibition was also opened on the first day of the conference titled
"Tracing Armenian Claims: Ownership Certificates Relating to Individual and Community-Owned Armenian Assets"
organised by the Armenian Genocide Museum-Institute Foundation and the National Archives of Armenia. Conference participants also visited Armenian Genocide Monument on the same day, putting flowers at the Eternal Fire and honouring the memory of the innocent martyrs with a minute's silence.
The conference was attended by researchers from Armenia, USA, Greece, Argentina, Israel, Sweden, Finland, Austria, Lebanon and Great Britain. 47 scientific reports were presented during the three-day conference in its 11 sessions. 12 AGMI researchers presented their reports during the conference.
Two round table discussions were held at the end of the three-day conference, during which the process of recognition of the Armenian Genocide and reparations, the achievements connected with them, as well as problems, expectations were discussed in a narrower professional environment, as were the manifestations of the genocidal policy during the recent Artsakh war.