18.11.2016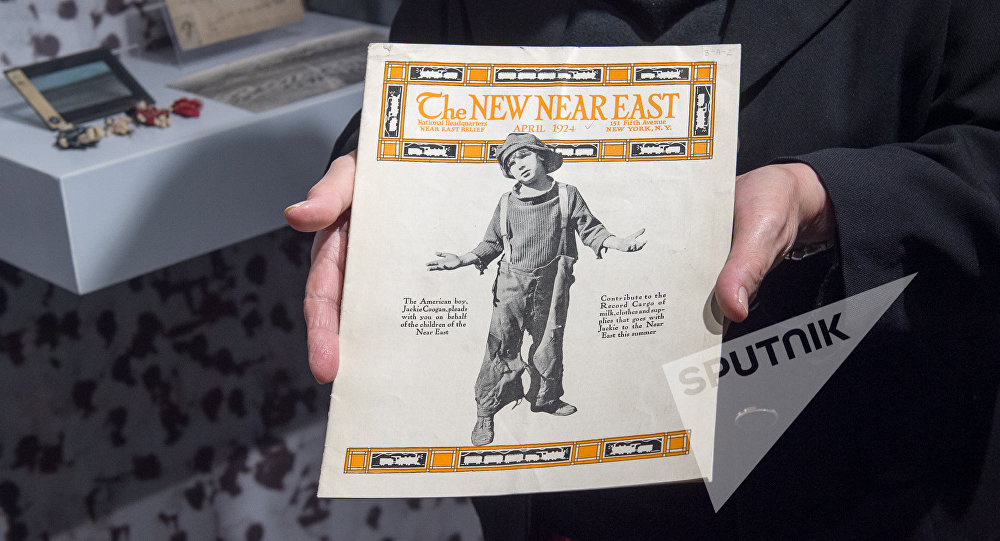 The Kid - the first full-length film directed by Charlie Chaplin that features 5 years old Jackie Coogan was included in the history of world cinematography. However, not a lot of people know the role that the kid played in saving the Armenian children survivors of the Armenian Genocide.
Chaplin's The Kid had its unique place in cinematography, while the film's main character Jackie Coogan - in salvation of children survivors of the Armenian Genocide.
"Charlie Chaplin saw the little Coogan on the stage of the theatre and was so much impressed by the boy that cast him in The kid, - told Astghik Yedigaryan, an employee of the Armenian Genocide Museum Institute, to the correspondent of Sputnik Armenia.
After the screening of the film Jackie became famous, attracting the American by his play. The American Committee of Near East Relief was by then already established and took advantage of the child's reputation and involved him in a charity work.
With the direct participation of Jackie Coogan stations collecting "Nestle" dairy-products and clothing were set up throughout the United States, where thousands of American children were donating cloths and dairy-products, - told Astghik Yedigaryan. According to her, trust in Jackie was crucial in this enterprise. If not a little boy, the efforts of Near East Relief might not be enough to collect aid during such short time.
On a ship carrying humanitarian aid he arrived in Greece in 1925 where thousands of Armenian orphans were settled. "Jackie personally distributed this aid to the Armenian and Greek children, which was collected under the slogan "one box of condensed milk can save a life of one child", -told Yedigaryan.
A photo housed in the AGMI shows that after returning from Greece Jackie was admitted by the Mayor of New York.
Different publications make it clear that regardless the fact that Jackie's father had aimed at involving Jackie in the charity work, the boy got involved into this humanitarian work being deeply aware that he is saving children's lives.
The American Committee of Near East Relief was established by the offer of the US ambassador to the Ottoman Empire Henry Morgenthau for providing aid to the Armenian Genocide survivors.
At first it was called the Armenian Relief Committee, then in 1915 was recalled the American Committee of Armenian and Syrian Relief and 4 years later, in 1919, was renamed to the American Committee of the Near East Relief by the decision of the US Congress.
Cleveland Dodge, James Barton, Charles Krein and others were among the founders of the Committee. Thousands of missionaries were cooperating with the Committee. It was functioning until 1930 and during its 15 years activity carried out invaluable work in saving thousands of children.
Laura Sargsyan, Sputnik