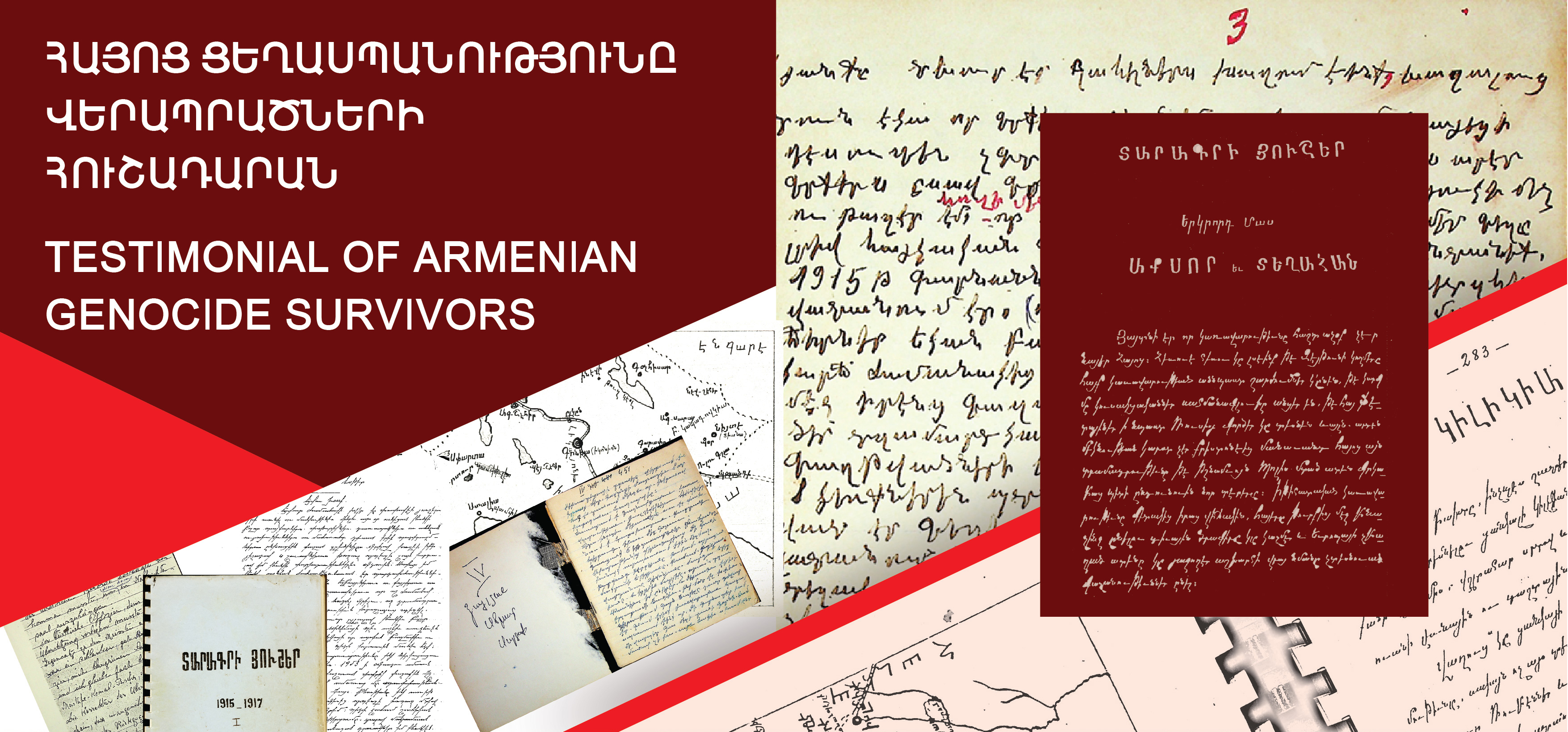 A memoir is a descriptive story of an individual life or part of it, written by an eyewitness to the events that took place. Its main characteristic is sincerity. The author, as a rule, describes events impartially, as they happened, without editing or exaggeration. This type of literary work is often written by individuals who don't have a high standard of education or literary ability and, sometimes, even by semi-literary people.
The writing of memoirs gained great momentum in Armenian literature after the Armenian genocide, when many survivors began to record their memories of the genocide days, passing their biographies on to future generations. As a result, we have a significant legacy in terms of numbers and quality and, if some of them have been published and put into scientific circulation, an important number remain unpublished.
The first memoirs concerning the genocide began to be published in its early days, in 1915. This became a tradition which continued until the 1990s, when the last survivors passed away. Subsequently many of their descendants had the memoirs in their possession published or took the initiative in doing so, sometimes attaching English or French translations to the Armenian originals.
Important examples of genocide memoirs are, for example, Karapet Gabikyan's "Yeghernapatum Poqun Hayots yev Norin Medsn Mayraqaghaqi Sebastyo" (Boston, 1924, 604 pages); Rev. Karapet Kalfayan's "Girk Yelis Hayots. Hishatak Anshirim Nahatakats Hnuts yev Norits, Haydits yev Anhaydits" (Beirut, 1955, 645 pages); Yervand Otyan's "Anidsyal Tariner 1914-1919 (Antsnakan Hishatakner)" (Yerevan, 2001, 583 pages); Khoren Davtyan's "Kyanqis Girke" (Beirut, 1967, 626 pages); Khacher Sargisyan's "Yotanasun Tarineru Hushers" (Beirut, 1970, 1143 pages); Stepan Misqjyan's "Yes Der-Zori Djikhqen Pakhatz Em" (Vol. I, Paris,1965, 124 pages, Vol. II, 1966, 128 pages); the series founded and published by Bishop Nerses Bakhtikyan titled "Matenashar Aprilyan Yegherni" (Antilias, 1960s) and many others.
However, not all memoir writers were able to publish their life stories. Today, more than a century after the genocide, there are a large number of unpublished memoirs in various archival collections and libraries around the world, as well as in the homes of the survivors' heirs, but an important part of them are held in the archives of the Armenian Genocide Museum-Institute.
This collection of unpublished memoirs held by the museum-institute consists of 482 individual works, a significant number of which are originals, the remainder being copies. They are mostly written in Armenian (both in eastern and western, using both classical and new orthography), but there are also a few in Russian, English, French, Turkish using Armenian letters and Arabic. This collection of memoirs held by the museum-institute was created from individual donations made directly by the authors or their descendants.
It is obvious that not all the works held in such a large collection have the same scientific value and importance. There are memoirs in it that are one or two-page descriptions of a single event, either computer-generated or copied from printed sources; but there are also completely unknown and unpublished works, sometimes containing up to a thousand pages, which are of great historical value and significance, whose publication can turn them into important sources for the study of the genocide, with many new facts and points that had remained unknown being revealed.
Important examples in the AGMI memoir collection are, for example, Hambartsum Gasparyan from Chmshkatsag's "Kyanqi drvagner", comprising more than 1100 pages; Garnik Poturyan, a teacher and intellectual's "Taragri Husher 1915-1917" (420 pages) in which the author refers not only to the caravans of exiles and disasters on the roads, but also provides important information about the history and ethnography of his birthplace Partizak; Karapet Yeghyazaryan's "Taron and Sasun (Husher yev Vkayutyunner)" (957 pages); Yervand Sharabkhanyan from Bursa's "Husher and Pusher" (five notebooks totalling 740 pages) in which, in addition to details of the exile and those massacred in the Syrian deserts, there is information about Bursa's past; another is Tadevos Papikyan's "Depqer and Demqer", dedicated to the Armenian history and ethnography of the Musa Ler villages (816 pages) and many, many others.
Many of these memoirs not only tell the story of massacres and desert catastrophes, but often begin with a description of the author's native land, village or town. They talk about their home, family, neighbours, schools, people, way of living, customs, traditions, educational and cultural life and about many other things. Thus these memoirs are important as primary sources, not just for the study of the details of the Armenian genocide, but also as important sources of information for the study of the ethnography, folklore and demographics of western Armenia, Cilicia, Asia Minor, and the Kars region.
The Armenian Genocide Museum-Institute has initiated the publication, using a scientific approach, of the best works in this collection, which will be presented in a series under the general title of "Memoirs of Armenian Genocide Survivors". We are confident that their publication will once again emphasize the value and importance of Armenian sources in the study of the Armenian genocide and reveal many unknown details.
AGMI has now undertaken the compilation and complete scientific listing of its collection of unpublished memoirs, in which each item will be described in detail, facilitating the work of specialists interested in the subject. The database being created, with its great store of facts, will be a useful guide for them with its helpful lists on many subjects.
Until then, however, individual memoirs will be presented successively on our website. Later, before they are published as separate volumes or as electronic versions, they will, once more, appear on our website.
We hope that this work will attract the attention of researchers and - why not - that of all Armenians, becoming the reason that memoirs unknown to science and held by individuals, or at least their copies, could be handed over to the Armenian Genocide Museum-Institute, where they will receive special care and, in time, be put into scientific circulation, thus becoming everyone's property and gradually, when material means are created, will be published.