19.09.2014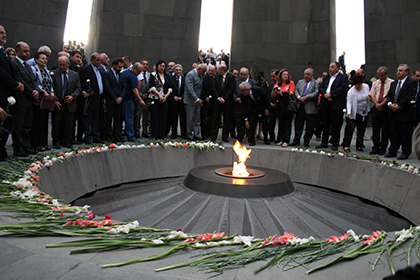 The Participants of the 5th Armenia-Diaspora PanArmenian Conference to be held in Yerevan on September 18-20 visited Tsitsernakaberd Memorial Complex.
The members of the delegation among whom different organization leaders and representatives from 60 Diaspora countries as well as journalists put flowers at the eternal fire and honored the memory of the innocent victims with a minute of silence after which clergymen performed a memorial service for the soul of innocent victims.
Then a symbolic fir planting took place in the Memorial Ally of Tsitsernakaberd for the commemoration of the 100th anniversary of the Armenian Genocide and the 5th Armenian-Diaspora Conference.
We inform that the Journalist Union of Armenia, the PanArmenian Media Association and the coordinating council of Panamanian journalists' conference with the assistance of Ministry of Diaspora will hold the 7th conference of PanArmenian journalists with the theme "Armenian Genocide 100; from Recognition to Demand" on September 19 in Yerevan.
The conference will be held in parallel with the 5th PanArmenian conference.
The replenishment of PanArmenian Media Association and the development of upcoming programs are planned during the conference.