20.05.2017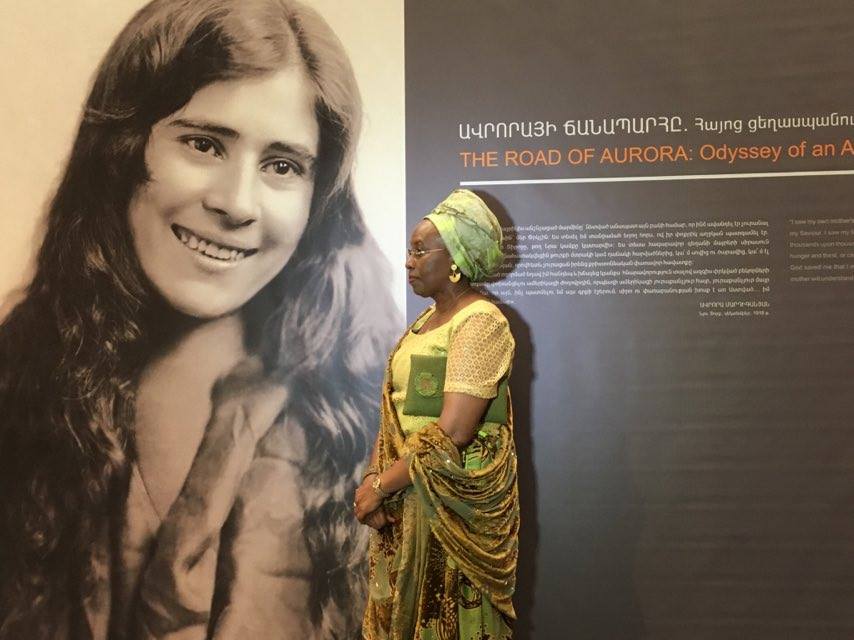 On 20th of May, the winner of "Aurora Prize" Margaret Barankitseh visited Armenian Genocide Museum. She laid flowers at the eternal fire and honored the memory of the innocent martyrs with a minute of silence.
AGMI Director Hayk Demoyan presented to Mrs. Barankitseh the history of the Genocide Monument and the Memory wall where on the one side the names of the Armneian populated cities of Eastern Armenia are engraved and the other side contains the jars filled with soil brought from the graves of those foreign political figures and intellectuals who raised their voices in protest against the genocide perpetrated the Armenians by the Turks.
Margaret Barankitseh planted a fir in the Memory Alley of the Genocide Monument.
After which Margaret Barankitseh visited the Genocide Museum and got acquainted with crimes and tragic consequences committed against humanity a hundred years ago.
She had also visited the Temporary exhibition of the Museum, where an exhibition dedicated to Aurora Martiganian has just opened. The life story and the character of this Armenian woman was the source of inspiration while creating "Aurora" award.
At the end of the visit Margaret Barankitseh left a note in the Memory Book of Honorable Guests. The note reads: "To Proud Armenians, I sincerely thank you for your incredible courage. Yes, love always wins".
AGMI Director presented to Margaret Barankitseh the English edition of "Armenian Genocide: Front page coverage in the world press" published by Armneian Genocide Museum-Institute.