21.04.2011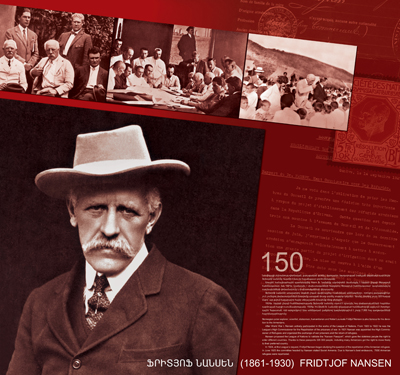 On April 20 and 21, 2011 Armenian Genocide Museum-Institute organized an international conference titled "The Armenian Genocide and the Scandinavian Response" dedicated to Fridtjof Nansen's 150th anniversary. During the conference, historians and researchers from Armenia, Sweden, Denmark, and Norway presented papers on various aspects of the topic.
The Armenian Genocide was met with a great international response, drawing the attention of the international community and the media. The Scandinavian countries were no exception. Governments, organizations, and individuals from Sweden, Norway, and Denmark reacted in a variety of ways to the ongoing crisis in Armenia.
The Scandinavian missionaries' efforts directed at helping the Armenian people suffering massacres in the Ottoman Empire, and at proselytizing among them, were mainly realized by the Danish, Norwegian, and Swedish branches of the Women Missionary Workers organization (KMA; Kvindelige Missions Arbejdere).
From the beginning of the 20th Century prominent Scandinavian relief workers such as Maria Jacobsen, Alma Johansson, Bodil Catharine Biørn and Karen Jeppe undertook difficult missions of providing help for the needy and saving the lives of thousands of Armenians.
Prominent Norwegian explorer, scientist, and diplomat Fridtjof Nansen's efforts were of equally great importance on the list of Scandinavian initiatives addressed at ameliorating the consequences of the Genocide. As a High Commissioner of the League of Nations he took effective steps to repatriate the homeless Armenians and provide them with sustenance.
The international conference organized by the Armenian Genocide Museum-Institute has the objective to revive key parts of the important, but largely forgotten or ignored history of Scandinavian-Armenian relations through discussing them in the context of common history and memory.