21.04.2021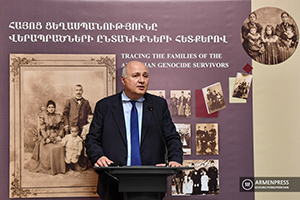 The Armenian Genocide Museum-Institute Foundation annual reporting press conference took place on April 21.
AGMI Director Dr. Harutyun Marutyan presented the basic results of the research, scientific-educational and exhibition work carried out by the museum-institute during the previous year.
Dr. Edita Gzoyan, AGMI Deputy Scientific Director, spoke about international cooperation efforts made and the donations received by the AGMI during the previous year.
Deputy Director for Museum Affairs Lusine Abrahamyan referred to visits made to the museum by people from Armenia and abroad.
The press-conference was followed by the opening of the temporary exhibition titled "Tracing the Families of the Armenian Genocide Survivors." Opening speeches were delivered by AGMI Director Harutyun Marutyan and AGMI Head of Museum Exhibitions Organization Department Seda Parsamyan.
In his speech the AGMI Director emphasized the importance of regularly revealing stories of Armenian Genocide survivors, as well as the question of clarifying individual stories alongside various studies being made. The exhibition's coordinator, Mrs./Miss. Seda Parsamyan, thanked survivors' descendants for making the exhibition possible by sharing their family stories and items they had preserved.
The exhibition is being presented in two languages, Armenian and English. The stories of more than thirty families who survived the Armenian Genocide with heavy losses are being presented in seventeen main sections (accompanied by photographs, family items, documents, handwritten memoirs, etc.). The exhibition includes excerpts from video recordings of Armenian Genocide survivors.
The event was attended by survivors' descendants from the United States, Cyprus, Argentina, France and other countries, as well as those settled in Armenia who personally presented their family stories. The opening of the exhibition was accompanied by the presentation of a book dedicated to the history of one of the families - the Tevekelyan family from Malatya.
At the end of the event, letters of thanks were handed to the survivors' heirs.
The exhibition will remain open until 10 September 2021. Admission is free.
AGMI External Relations and Press Department