21.05.2022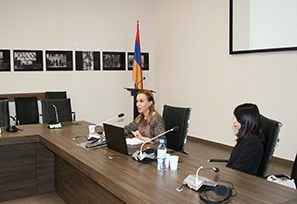 The Parliament of the Hellenic Republic of Greece declared, on February 24, 1994, that May 19 is a day of remembrance for the victims of the Greek Genocide, associated with the arrival of Mustafa Kemal in Samsun. The Greek Genocide is also commemorated on September 14 in connection with the premeditated extermination of the Smyrna Christians, followed by the burning of that city, in 1922.
A discourse, dedicated to the memory of the victims of the Pontic Greek Genocide, was held in the "Armenian Genocide Museum-Institute" Foundation's conference hall on May 21 in the presence of Harutyun Marutyan, AGMI Director, Edita Gzoyan, AGMI Deputy Scientific Director, Maria Lazareva, President of the Union of Greek Communities of Armenia, Garnik Harutyunyan, President of TheoLab Scientific-Analytical Centre and it's co-founder Hayk Hakobyan, as well as representatives of the Greek community.
The opening speech was made by Maria Lazareva, President of the Union of Greek Communities of Armenia. She noted that she attached great importance to the commemoration of the victims of the Greek Genocide and, especially, to the museum-institute's cooperation.
Tehmine Martoyan, AGMI senior researcher in the Victims' Documentation and Data Collection Department, was the speaker of the day. Referring to the Greek Genocide, she demonstrated that the Ottoman state carried out the deportations and massacres of Greeks in three main stages in Thrace, Asia Minor and Pontus: 1913-1914 (the first half of 1914 and, to some extent, 1915), 1916-1918 and 1919-1923.
She presented examples of Armeno-Greek cooperation, joint self-defence battles and theses and methods used by the Republic of Turkey to deny the Greek Genocide. The story of the self-sacrifice of the women of Suli village - the "death dance" - on Mount Zalongo, was especially interesting.
It should be noted that on May 19, the first monument in Armenia (created by Armen Ghumashyan and Koryun Hakobyan of Sanahin) in memory of the Armenian and Greek victims of the genocide in the Ottoman Empire was inaugurated, on the initiative of Greek doctor Simon Zakharov, in the Alaverdi Greek community's courtyard.