21.12.2013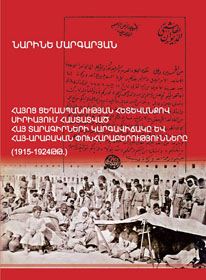 The book of the Armenian Genocide Museum-Institute scholar Narine Margaryan, PHD was published. The book titled "The Status of the Armenian Deportees Settled In Syria as a Result of the Armenian Genocide and the Armenian - Arab Relations (1915-1924)".
The book sheds light on the problems of the Armenians settled in Syria after the Armenian Genocide. It researches the attitude of the Syrian Arabs to the Armenians. At the same time it focused also on the treatment of the Arab governors and chieftains to the Armenians, then the policy under Emir Feisal rule (1918-1920), and in the first years of the French mandate (1920-1924). It discusses the development of the relations between the Arabs and the Armenians during those years.
This book studies the main tendencies of Armenian involvement in the social and political life of Syria, and process of organizing and reforming the Armenian community in Syria. The work is addressed to historians, orientalians, diplomats, as well as to a wide public.