22.04.08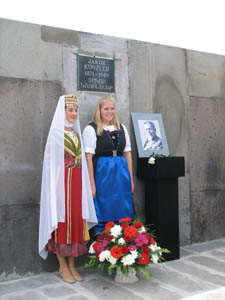 The ceremony of memorial plaque dedication in memory of Jacob Kunzler, a Swiss missioner and humanist was held in Armenian Genocide Museum-Institute.
The event started at the "Komitas" hall of the AGMI, where a documentary film had been shown. Hayk Demoyan, the AGMI director, Ara Ghazaryan, chairman of the Armenian Cultural Foundation (USA) and the representative of Jacob Kunzler family, Pru Marshall made speeches.
During the ceremony the official address of Swiss ambassador Lorenzo Amberg was presented by Zara Alaverdyan, the representative of the Swiss development agency's Armenian Branch office.
The participants of the ceremony and Kunzler family members visited Tsisernakaberd Memorial Complex and put flowers to the Memorial of the Armenian Genocide victims.
The memorial plaque dedication ceremony followed after the screaming: The representatives of Kunzler family gave their speeches during the ceremony which was accompanied with the spiritual songs of "Small singers of Armenian".
The memorial event was finalized with a tree planting in the memorial alley of the victims of the Armenian Genocide by the Kunzler family members.