22.04.2014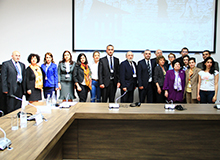 "The Caucasus Frontline of the First World War: Genocide, Refugees and Humanitarian Aid" international conference started its second day, at the conference hall of the Armenian Genocide Museum-Institute.
AGMI researchers Ph.D. in history Gevorg Vardanyan, Gohar Khanumyan, Lusine Abrahamyan, Robert Tatoyan, as well as researcher of Armenian National Academy of Science Ph.D. in history Knarik Avagyan, and researcher of the Sardarapat museum Khoren Grigoryan, participated in the conference with their reports.
Comprehensive reports with profound analysis were presented by Ph.D. student at European University of Italy, Suzan Meryem Rosita Kalayci, and BA of Pazmany Peter Catholic University of Hungary, Kránitz Péter Pál.
The main reports were followed by questions and discussions and the results summarizing of the tow-day international conference.