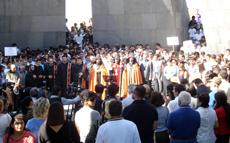 On Sept 19, Armenian Genocide Museum-Institute and «MIASIN» youth movement, initiated a liturgy followed by a protest rally at the Armenian Genocide Memorial in Yerevan. Protestors condemned the Turkish Government for publicity stunts over Surb Khach Church on the island of Akhtamar.
A crowded procession; representatives of public organizations, government agencies, ordinary Armenian citizens and representatives of ethnic minorities attended the protest rally and began to climb to Tsitsernakaberd Memorial complex, - carrying banners, "Do not give us our church for rent" and "Turkey comply with your international obligations" and shouting the word "shame".
In memory of victims of the Armenian Genocide was served a liturgy, which began at the same time with the liturgy held in Surb Khach (Saint Cross) Church on Akhtamar Island in Turkey.