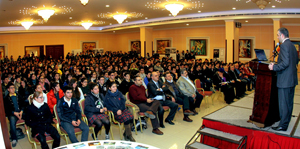 On February 22 the director of the Armenian Genocide Museum-Institute, Hayk Demoyan, delivered a lecture at the "Yerjo Samuelian - Yeraguyn" hall of the National Primacy of Beirut to the Armenian students.
During the lecture Hayk Demoyan spoke about the preparatory works of the events of the 100th anniversary of the Armenian Genocide and presented also the model of the new building of the museum. 'Keeping vivid the memory of the martyrs of the Armenian Genocide is our national duty. Every year thousands of Armenians visit the Tsitsernakaberd memorial complex to honor the memory of the innocent victims of the Genocide. We do not have the right to forget our lost homeland. The 100th anniversary of the Armenian Genocide in 2015 is not the end of our struggle but a new stage in it,' Hayk Demoyan said. 'You and your fellows in Armenia, Artsakh, France and elsewhere should continue our struggle,' emphasized Hayk Demoyan.
The organizers and participants of the event praised Hayk Demoyan's lecture and especially his willingness to encourage the youth.