23.04.2022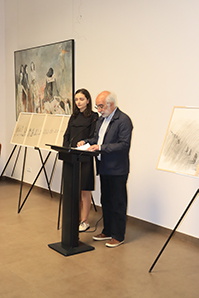 The French-Armenian artist and engraver Jean-Pierre Seferian's exhibition titled "DESERT: THE DEATH MARCH" was opened in the AGMI Gallery on April 23.
AGMI Deputy Director for Scientific Works, Edita Gzoyan gave the opening speech. In his speech, Jean-Pierre Seferian thanked AGMI Director Harutyun Marutyan, as well as the entire AGMI staff. Tehmine Martoyan, senior researcher in the Armenian Genocide Victims' Documentation and Data Collection Department, greeted those present.
Jean-Pierre (Haroutioun-Bedros) Seferian was born in Marseilles on January 10, 1954. His father was originally from Sebastia (Sivas) and his mother from Ankara. They emigrated to France in 1925. Settling in the suburb of Issy-les-Moulineaux near Paris, Jean-Pierre Seferian decided, at the age of 18, to specialise in graphic art and advertising. He started working in studios and advertising agencies and, at the same time graduated from the School of Applied Arts in Paris (by evening classes, in 1975) and studied painting techniques at the School of Fine Arts (1976).
Participating in annual art exhibitions, the master received about thirty awards and medals. His works have been exhibited in different countries (Korea, Japan, China, USA and Armenia). A solo exhibition of the artist's "Grey Anachronism" series was held in the National Gallery of Armenia in 2008. Jean-Pierre Seferian creates works on various Armenian themes, inspired by his first visit to Armenia in 2005. He was also co-author of the documentary "Khachkars Enter the Louvre" (2007) dedicated to the Year of Armenia in France. It was widely broadcast on national television stations in all CIS countries.
Jean-Pierre Seferian began, in 2009, making engravings on metal on the theme of "Death March", which would form the basis of the "Desert" series (2015), dedicated to the 100th anniversary of the Armenian Genocide. In the same year, the artist presented 8 individual and 7 collective exhibitions. He then prepared a solo exhibition of a number of engravings (Desert II) in memory of the "death march" survivors.
The series of engravings by Jean-Pierre Seferian presented within the framework of this exhibition covers one of the stages of the Armenian Genocide: the death march. It takes us to a world of horror, in which the actors are the victims: women, children and the elderly, who have found themselves on the road as a result of the criminal policy of extermination.

This gallery, which usually exhibits works by French-Armenian artist Jansem dedicated to 1915 (donated to the Armenian Genocide Museum-Institute), gives visitors a unique opportunity to view, as in a mirror, the exceptional works of two masters who speak to us with their power and infinite humanity.

Raymond Haroutioun KEVORKIAN