23.04.2022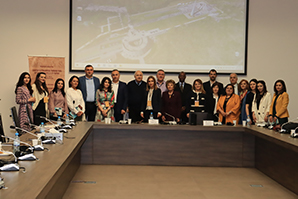 A three-day conference titled "Challenges of Teaching the Armenian Genocide in the 21st Century" organised by the Armenian Genocide Museum-Institute Foundation took place from April 20 to 22, 2010.
AGMI Director Harutyun Marutyan made an opening speech at the conference. A welcoming speech was also delivered by Republic of Armenia Deputy Minister of Education and Science Janna Andreasyan.
A temporary exhibition titled
"Tracing the Armenian Schools in the Ottoman Empire: An Enlighted Nation's Certificates"
organised by the Armenian Genocide Museum-Institute Foundation was opened on the first day of the conference. On the same day, the participants also visited the Armenian Genocide Memorial, laid flowers at the Eternal Flame and observed a minute of silence in memory of the holy martyrs of the Armenian Genocide.
About thirty specialists in the field of genocide from Armenia, the United States, the Russian Federation, Lebanon, Israel, Rwanda, Spain, the Republic of South Africa and Cambodia took part in the conference.
The three-day conference had 6 sessions, during which the following topics were discussed:
● Genocide Teaching: Value and Ethical Issues,
● Teaching about Genocide in Secondary Educational Institutions,
● Teaching about Genocide in Higher Educational Institutions
● The Role and Contribution of Museums to Genocide Education
● Teaching about the Armenian Genocide through Individual Stories
● Particular Emphasis on Teaching the Armenian Genocide.
29 scientific reports were presented, 9 of which were presented by AGMI researchers.
On the second day, conference participants visited the Museum of the Mother Cathedral of Etchmiadzin.
A workshop was held within the framework of the conference which was attended by Armenian history teachers who had participated in the educational programs organised by the AGMI in 2019, 2020, 2021. The teachers stressed the importance of holding such meetings and expressed the hope that the Armenian Genocide Museum-Institute would pursue and assist in resolving the issues raised by them.
After a Q&A discussion session, the closing ceremony of the conference took place.
AGMI Director Harutyun Marutyan expressed his gratitude to all those who contributed to the organisation and conduct of the conference. Summing up the results of the conference, the speaker stressed the urgency of the presented topics and expressed hope that the reports presented would be published as a separate collection.