23.09.2022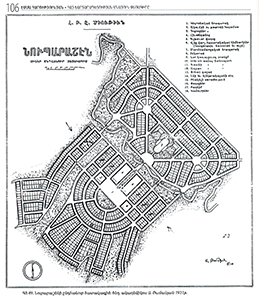 On April 19, 2022, the Yerevan Council of Elders adopted a decision to name the 13th street of Nubarashen "New Smyrna". Within the framework of the three-day international conference titled "Smyrna in the context of the Armenian and Greek genocides: annihilation, arson and deportation (September 1922)," the participants visited Nubarashen to attend the naming ceremony of New Smyrna street.
The construction of Nubarashen is connected with the name and activities of the Armenian national philanthropist Boghos Nubar Pasha. His father, Nubar Pasha (1825-1899), the first prime minister of Egypt, was born and educated in Smyrna, later moving to Egypt. The Nubarians are descended from the branch of Mkrtich Nubar's family. He was a merchant who migrated from Artsakh to Smyrna at the end of the 18th century and was well known in Smyrna. Boghos Nubar (1851-1930), a prominent Armenian political figure, founder and first president of the Armenian General Benevolent Union (AGBU), was born in Constantinople, receiving his agricultural education first in France and then in Switzerland. Boghos Nubar was appointed the leader and authorised representative of the Armenian national delegation, with a mandate to protect the cause and rights of the Armenian people at conferences to be convened in European countries, under the terms of the pastoral letter granted to him by the Catholicos of All Armenians, Gevorg V Sureniants, in 1912.
A decision was made to finance the construction of a new settlement in Soviet Armenia at the AGBU meeting held in Philadelphia (USA) in 1926. The main goal of the project was to promote the repatriation of families who survived the Armenian Genocide. It was planned to collect 250,000 US dollars for the implementation of the project by April 30, 1931, the 25th anniversary of AGBU. Only 153,000 US dollars had been collected by the end of 1929. The Nubarashen construction project did not fail thanks to the 100,000 US dollars allocated by Boghos Nubar. The "Agreement on the construction of the Nubarashen model small town" was signed between the representatives of the Armenian government and AGBU Central Executive in Paris, on April 25, 1930. The construction of this small town began, on a site 7 km southeast of Yerevan, based on the design by academician Alexander Tamanian, in the summer of 1930, based on this agreement.
The first residents of Nubarashen were repatriated from Greece, France, Bulgaria, Lebanon and Syria. Nubarashen opened its welcoming doors to the first repatriates, about 70 families, in 1932. The first families established in Nubarashen from Greece were the Kiossians, Berberians, Kzlians, Parunakians, Chilingirians, Mushlians, Tatarians, Chalikians, Ohanians, Orujians and others.
The first child born in Nubarashen, was Nubar Tadevos Berberian, born on January 10, 1933. His parents were repatriated from Greece. They had been allotted the first house built in Nubarashen.