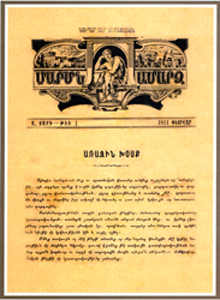 In 1908, after the revolution of the Young Turks, the Armenian community concerned with the development of sport and gymnastics among the youth. To encourage the spread of gymnastics there was a necessity to establish a newspaper. In February 1911 the first sport magazine Marmnamarz (The Gymnastics) was published in Constantinople. The interest of the Western Armenians toward gymnastics was due to the foreign, and particularly, American colleges operating in the Empire. The "Armenization" of the sportive movement from 1911 to 1914 was due to Marmnamarz published by Sharvarsh Krisyan. The executive director of the magazine was Karo Untsyan. In the beginning, a writer – publicist Hakob Siruni participated in and supported the publication of the journal. Marmnamarz was the first sport newspaper published in the Ottoman Empire and was a unique phenomenon in the history of the Western-Armenian press.
From the very beginning Marmnamarz had several crucial objectives: to create interest towards gymnastics and sport in the towns and villages of Western Armenian largely inhabited with the Armenians, to give information about the sport events happening in the Empire and in the world wide, to become the coordinator of the sport clubs and competitions. Armenian and foreign authors had their articles about gymnastics, health, pedagogy and the development of sport in Marmnamarz. Thanks to Marmnamarz it was possible to initiate and hold the Armenian Olympic Games. The first Armenian Olympic Games were held on May 1, 1911 in the stadium of "Union" club in Constantinople with the audience of around 2000. Almost all the sport clubs operating in Constantinople participated in the competitions.
It is worth to mention that the first issue Marmnamarz was published as an illustrated sportive monthly. Later it appeared as a "Herald of the National Physical Renaissance" (Orkan Azgayin Fizikakan Veratsnutyan) and "Herald of the National Physical Education" (Orkan Azgayin Fizikakan Krtutyan) with the emphasis on the promotion of the sport life among the Armenians in the Ottoman Empire. In the first year of its publication, in 1911, Marmnamarz was published in 10 volumes. Responding to wishes of the readers in 1912 the journal was published in 24 volumes.
Marmnamarz was published till 1914. The founder of the magazine Shavarsh Krisyan was a victim of the Genocide committed by the Young Turks. Consequently the publication of Marmnamarz was quitted.
Share this