24.04.09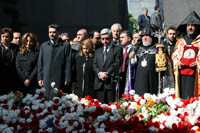 Today is the day of commemoration of innocent victims of the Armenian Genocide.
This year marks the 90th anniversary of April 24 as a day of commemoration. A special committee was formed in Constantinople, in March 1919, by a group of Ottoman Armenian intellectuals who survived the Armenian Genocide. The main goal of this committee was the organization of commemoration ceremonies dedicated to the 4th anniversary of the Armenian Genocide. Due to the efforts of these people the memory of the victims of Armenian Genocide was commemorated among the Armenians of Constantinople for the first time in 1919. Since the first commemoration of the Armenian Genocide victims in Istanbul, April 24 officially was adopted as "Day of Mourning and Commemoration". And up to now every year since early morning hundred of thousands of Armenians from Armenia and its vast Diaspora have been marching to Tsitsernakaberd Memorial Complex, Yerevan to remember all who perished 94 years ago during the Armenian Genocide.
All brings flowers to the eternal fire, and a plenty of flowers encircles the area. The banners say "No more genocide, no more indifference, no more ignorance and no more denial". The President of RA Serzh Sargsyan, Prime Minister of RA Tigran Sargsyan, the Supreme Patriarch of all Armenians His Holiness Karekin II, parliament and government members and diplomats were among the first visitors who remember the victims by visiting Tsisernakaberd Memorial Complex and laying flowers in the memory to the innocent victims. His Holiness Karekin II, Catholicos of All Armenians conducted a special church service for the repose of the victims' souls.
Flow of people didn't cease at the ever burning fire. This silence march also symbolizes the revival of the Armenian nation which survived after one of the greatest tragedies of human history.