24.04.2018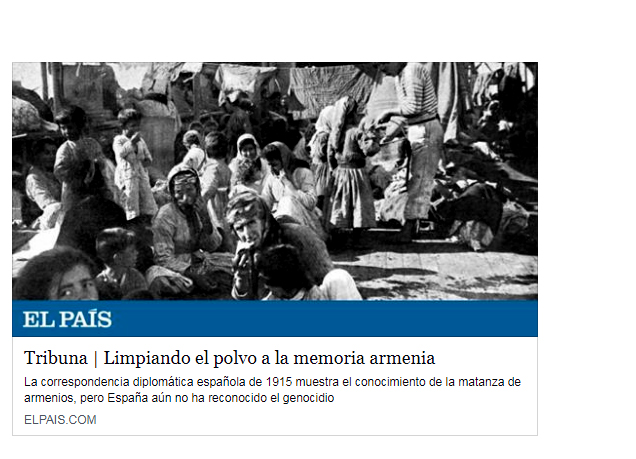 Iván Gaztañaga, one of the alumni of the Armenian Genocide Museum-Institute's Rafael Lemkin Scholarship, has published an article in the most popular Spanish newspaper
El País.
The article titled "Cleaning the dust of the Armenian Memory: the Spanish diplomatic letters of 1915 show the awareness of the the Spanish government on the slaughter of Armenians, but Spain still hasn't recognized the Genocide" is about the Spanish historic archives regarding the Armenian Genocide. Spain preserves dozens of letters, telegrams and press notes talking about the massacres from 1915 with the radicalization of Young Turks, the Provisional Law and the mass murder crimes. The Spanish embassies and consulates in the Ottoman Empire (Constantinople, Jerusalem, and Damascus) informed the Spanish Crown and Government about the extermination of Armenian people.
The documents also save an interesting folder about the attempts to rescue father Komitas Vardapet (the great Armenian composer, musician and armenologist) from Constantinople.
The intention of this article is to promote the Armenian Genocide Recognition in Spain. Here is the article in Spanish.
https://elpais.com/elpais/2018/04/23/opinion/1524481343_054281.html
More information about Rafael Lemkin Scholarship you can find here.
http://www.genocide-museum.am/arm/Lemkin-2018.php
http://www.genocide-museum.am/arm/Lemkin-Alumni.php