24.04.2022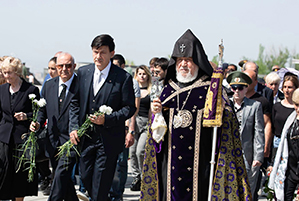 On April 24, His Holiness Garegin II, Supreme Patriarch and Catholicos of All Armenians, accompanied by members of the order of the Mother See of Holy Etchmiadzin, visited the Tsitsernakaberd Memorial to commemorate the holy martyrs of the Armenian Genocide.
After laying of his wreath at the memorial, the holy martyrs intercession ceremony of the Armenian Genocide was held under the presidency of His Holiness before the Eternal Flame.
The relics of the Holy Martyrs of the Armenian Genocide were also brought to the Tsitsernakaberd Memorial for this occasion.