24.04.2022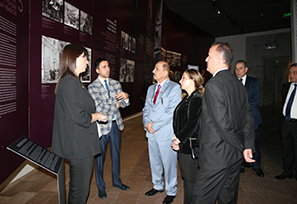 Members of the legislative and executive bodies of a number of countries also paid tribute to the memory of the Armenian Genocide victims at Tsitsernakaberd this morning.
The parliamentarians of the Syrian Arab Republic, the Hashemite Kingdom of Jordan, the mayor of the Norwegian city of Kragerø, the Norwegian ambassador to Armenia, the members of the Israeli Knesset and members of the Dutch governmental delegation also visited the Armenian Genocide Museum.
They became acquainted with the permanent and temporary exhibitions there. At the end of their visits, the members of the delegations made notes in the Honourable Guests' Memorial Book.