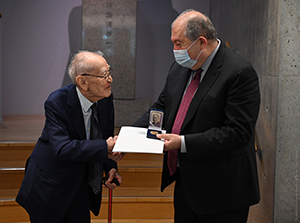 Mr. Armen Sargsyan, president of the Republic of Armenia, who was on a working visit to Japan, visited the Shibusawa Eiichi Memorial-Foundation established by that well-known Japanese businessman, philanthropist and friend of the Armenian people in Tokyo on July 23. There he met its director, Mr. Koichi Kabayama and Eiichi Shibusawa's great grandson, Masahide Shibusawa.
During his visit, President Sargsyan presented Masahide Shibusawa with the Armenian Genocide Museum-Institute's "Henry Morgenthau" commemorative medal. It was presented as a token of gratitude to Japanese businessman Eiichi Shibusawa for the establishment of "The Armenian Relief Fund", which provided significant assistance to Armenians after the Armenian Genocide and for its invaluable contribution to helping people in need.
Historical overview
"The Armenian Relief Fund" was created in Tokyo by Eiichi Shibusawa, the "father of Japanese capitalism", who helped Armenians who managed to survive the Genocide and assisted them to move to other countries through Japan and find shelter.
Henry Morgenthau, the US ambassador to the Ottoman Empire, played an important role in the establishment of the foundation, urging Lincoln Loyal Wirt, the American public and political figure who went to Japan to help Armenians, to meet Eiichi Shibusawa. It was after that meeting that Shibusawa became actively involved in helping Armenians by setting up the Foundation. According to materials preserved Shibusawa, after hearing about the problem in detail during the meeting with Wirt, responded in surprise:
"Why didn't you ask us about this before? Did you think, that being Buddhists, we would not help Christians in difficulty?"
Shibusawa personally provided 11,000 US dollars (about 140,000 US dollars today) and became the chairman of the Armenian Relief Committee in Japan. He also immediately sent a letter to about 100 Japanese officials with the object of raising interest in helping Armenians. Donations were made to the foundation from all classes of Japanese society, including Prince Tokugawa Yoshihisa, who donated a considerable sum.
The Shibusawa Eiichi Memorial Foundation (renamed in 1998 and formerly known as the Shibusawa Seien Memorial Foundation) has been operating in Tokyo since 1924. A museum under the foundation's aegis exists and the Foundation also implements various programs based on Eiichi Shibusawa's ideas.