24.06.2022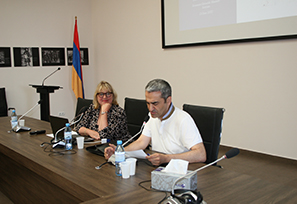 Professor Elisa von Joeden-Forgey, Chair of Holocaust and Genocide Studies at Keene State College, New Hampshire, delivered a public lecture on
"Genocide as Reproductive Violence"
in the Armenian Genocide Museum-Institute conference hall on June 23.
Suren Manukyan, head of the AGMI V. Dadryan Department of Comparative Genocide Studies, greeted the participants and briefly presented Elisa von Joeden-Forgey's biography and scholarly activities, noting that she was the founder of the academic credit program for Genocide Prevention in New Jersey's Stockton University, president of "Genocide Watch" and the first vice-president of the International Association of Genocide Scholars. She also lectures on the Holocaust, comparative genocide, gender and sexual violence, war, human rights, imperialism, and genocide prevention.
At the beginning of her speech, Mrs. von Joeden-Forgey said that she considered it a great honor to lecture at the Armenian Genocide Museum-Institute. During her lecture, she touched upon the different manifestations of reproductive violence that appear during genocides, the reasons for them and their creation and circulation as genocidal terms. She also spoke about current reproductive violence that is taking place in different conflict zones around the world: in the southern Caucasus, Middle East and elsewhere.
An interesting discussion took place between the speaker and AGMI researchers at the end of the lecture, during which parallels were drawn on different aspects of the Armenian, Jewish and other genocides. Suren Manukyan noted, in his concluding speech, that the discussion was as interesting and useful as the lecture itself. In her turn, Elisa von Joeden-Forgey expressed her thanks for the warm reception she received and hoped that their cooperation would continue.