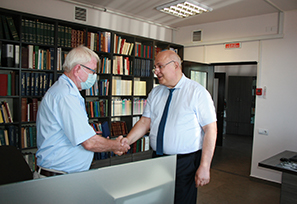 Mogens Højmark, Director of the Local History Archive for Gylling and Surroundings, Denmark, visited the Armenian Genocide Museum-Institute on September 11, 2021.
The cooperation between the Armenian Genocide Museum and the Gylling Archive has a long history. The personal archive of the Danish missionary Karen Jeppe is being preserved at Gylling's archive. Since 2011, Mr. Højmark has donated a number of valuable items to the Armenian Genocide Museum - newspapers, photographs, documents that are of primary importance for the study of Karen Jeppe's activities, the history of the Scandinavian Armenian movement, and the fate of Armenian women and children who survived the Armenian Genocide.
Mogens Højmark has also personally participated in the campaign for the recognition of the Armenian Genocide in Denmark, presented about the Armenian Genocide during different international conferences. Mr. Højmark has organized various events in Gylling, the birthplace of Karen Jeppe - opening of a khachkar near the monument to Karen Jeppe in April 2014, an event dedicated to the centenial of the Armenian Genocide in May 2015, during which the redemption ceremony of envelopes dedicated to the Danish missionaries Karen Jeppe and Maria Jacobsen took place. In addition to being a director of the archive, he has been a teacher for many years, working with dyslexic students with reading disabilities.
During Mr. Højmark's recent visit to Armenia, AGMI Director Harutyun Marutyan handed over the "Aurora Mardiganian" Memorial Medal to the Danish friend of the Armenian Genocide Museum, Mogens Højmark, as a sign of gratitude for the effective cooperation between the two institutions and for the efforts in the Armenian Genocide recognition campaign.