25.12.09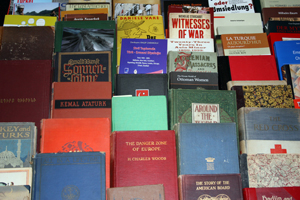 Every year the collection of the Armenian Genocide Museum is enriched with new and unique materials that greatly promote the research on Armenian Genocide and organization of museum exhibition. Those materials are mostly obtained with the support and donations of friends of the AGMI.
Donation made by "AGBU Young Professionals of Los Angeles" to the Armenian Genocide Museum-Institute in 2009 enriched the museum collection with unique materials.
With the financial support of the organization the museum obtained about 150 valuable museum items, including 75 volumes of rare books, which are primary sources for study Armenian genocide, of which 30 of unique importance. Hundreds of rare magazines and newspapers, original photos, postcards, medals, stamps, as well as a unique collection of original photos (38 items) taken by Russian photographer D. I. Yermakov at the end of the 19th century, depicting Armenian cultural monuments.
The Armenian Genocide Museum expresses its deepest gratitude to the AGBU Young Professionals of Los Angeles for their honest and patriotic step, hoping that henceforward the collaboration for preservation of our common memory will be continued.