26.05.2022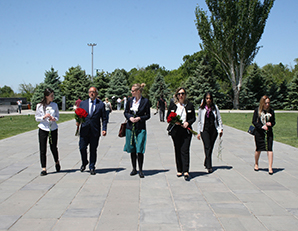 On May 26, Executive Director of the International Alliance for the Protection of Heritage in Conflict Areas (ALIPH) Valéry Freeland and Program Officer Elza Urizveryan visited the Armenian Genocide Memorial, accompanied by Nune Zastukhova, Head of the Department of Multilateral Policy and Development Cooperation of the Ministry of Foreign Affairs of the Republic of Armenia.
The guests were welcomed by the AGMI Deputy Director for Museum Affairs Lusine Abrahamyan, who presented the history of the memorial.
The guests laid flowers at the Eternal Fire of the genocide Monument and honored the memory of the innocent martyrs with a minute of silence.