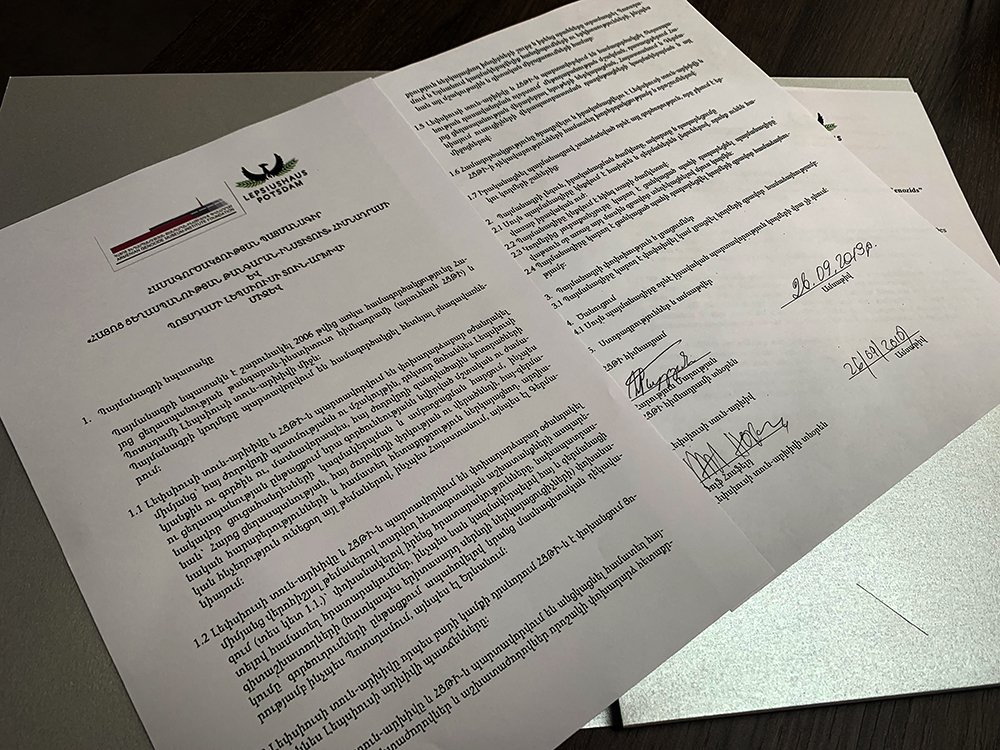 On September 26, at the Conference Hall of the Armenian Genocide Museum-Institute Foundation a cooperation agreement between the Armenian Genocide Museum-Institute and Lepsuis House was re-signed.
The agreement was signed by the scientific director of Lepsuis House and the AGMI Director Harutyun Marutyan.
Welcome speech was delivered by Dr. Marutyan followed by Dr. Rolf Hosfeld's presentation of the activities of the Lepsius House and the importance of the agreement and its possible prospects.
During the ceremony Lepsius House has delivered to the AGMI the digitized archival materials of exceptional significance concerning the Armenian massacres during the Hamidian reign (1895-1897).
Digitization of archive materials has been carried out by Dr. Hayk Martirosyan, member of the editorial board of the AGMI "Journal of Genocide Studies", who is conducting research at Lepsius House by the Evangelical Church Scholarship (EKD) in Germany. Dr. Martirosyan has presented a brief overview of the scientific and historical significance of these materials and how to use them.
The agreement implies cooperation in several direction: Lepsius House and AGMI undertake to mutually assist each other in research of the history and culture of the Armenian people, the life and work of Dr. Johannes Lepsius, and, in particular, in organization and completion of permanent and temporary exhibitions in Armenia and Germany dedicated to his activities during the mass extermination of Armenian people, as well as, the Armenian Genocide, the salvation of the Armenian people and its renaissance, German-Armenian relations and on other topics of mutual interest.
The parties also undertake to assist each other in the field of research on the above-mentioned topics, exchanging their publications, prepare joint publications, as well as, organize exchange of Armenian and German scholars (especially representatives of the younger generation), provide them with professional guidance during their study and research visits.
Other activities in the framework of the agreement will include joint Armenian-German conferences and workshops, Genocide education and development of relevant teaching methodologies, presentation of the Armenian Genocide in the textbooks, organizing teacher training courses in Armenia and Germany, etc. The contract was signed for five years.
AGMI Director Harutyun Marutyan handed to Rolf Hosfeld volumes of articles on the Armenian Genocide published in the American press.
Arkady Papoyan, head of the Department of Foreign Relations and Diaspora of the Ministry of Education, Science, Culture and Sport of the Republic of Armenia was also present at the event.