27.07.2022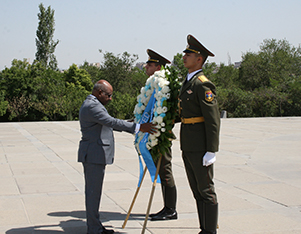 On July 27, the delegation led by the President of the 76th Session of the UN General Assembly, Abdullah Shahid, visited the Armenian Genocide Memorial, accompanied by RA Deputy Foreign Minister Vahe Gevorgyan, RA Permanent Representative to the UN Mher Margaryan and UN Permanent Coordinator in Yerevan Lila Peters Yahia.
The guests were welcomed by the AGMI Director Harutyun Marutyan, who told them the history of the creation of the Memorial. He also presented to the guests the history of three khachkars (cross stones) installed in the territory of Tsitsernakaberd, which are dedicated to the memory of the Armenians who were perished during the ethnic cleansing of the Armenian population in the territory of Azerbaijan at the end of the last century.
Abdullah Shahid laid a wreath at the Genocide monument, after which members of the accompanying delegation laid flowers at the Eternal Flame and honored the memory of the innocent martyrs with a minute's silence.
The members of the delegation also visited the Armenian Genocide museum accompanied by the senior tour-guide of the Museum Hasmik Martirosyan and toured the temporary and permanent exhibitions there, after which Abdullah Shahid left a note in the Honorable Visitors' Book.
Expressing gratitude for the visit, Harutyun Marutyan presented the guest with books on the Armenian Genocide. Mr. Abdullah Shahid thanked for the warm welcome and interesting tour.