27.09.2014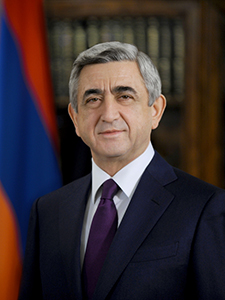 The President of the Republic of Armenia, Serzh Sargsyan's letter of commemoration was published in the Soldiers', Sailors' and Airmen's Families Association's (SSAFA) special issue "The official Commemorative guide to the 100th Anniversary of the Great War: 1914-1918".
The President Serzh Sargsyan particularly said: "First World War is one of the most horrendous pages of the human history and an inexhaustible and responsible topic of thorough analysis and interpretations.
The First World War left lasting impact on the lives of numerous nations and states that caused millions of casualties, distorted fates and sufferings, destructions abs brutalities.
During the war and afterwards the first genocide of the 20th century occurred in the Ottoman Empire. Under the guise of the war, Ottoman authorities took advantage of the global instability and perpetuated the premeditated extermination and violent exodus of Armenians from their homeland-the Armenian Highland, as well as from other parts of the Empire.
About one and half million Armenians were brutally slaughtered with survivors forced to seek refuge in different parts of the world. The mass murders of Armenians prompted a joint statement by Russia, France and Great Britain back in 1915, who described the massacres as a "crime against humanity and civilization" and wherein the inevitability of bringing the Ottoman authorities to justice was entrenched for the first time.
Today, on the eve of the 100th anniversary of the Armenian Genocide, around 30 stated and international organizations have recognized and condemned the crime committed by the Ottoman government".