28.10.2016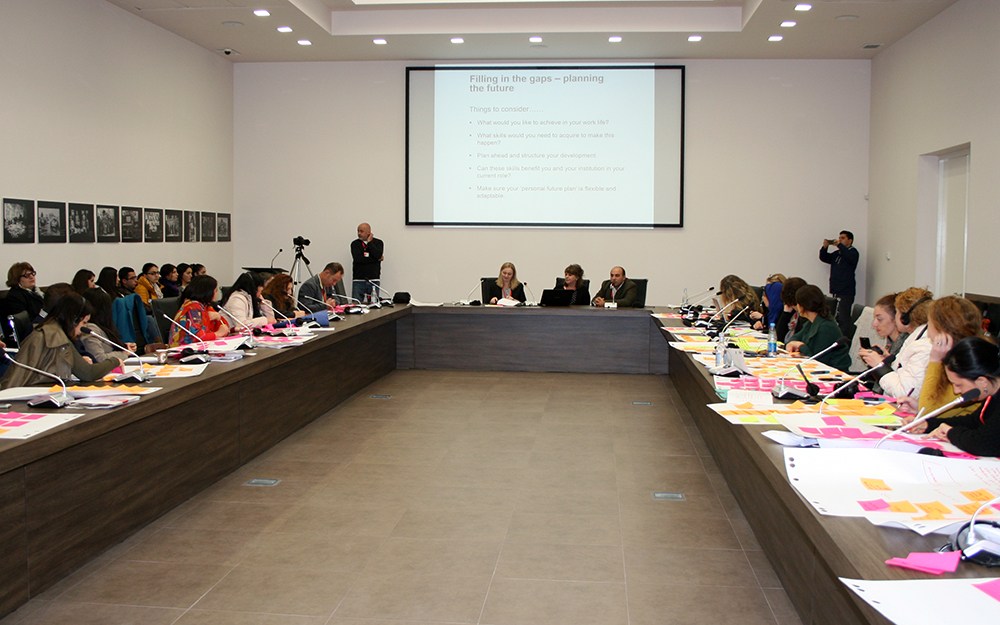 Today at the conference hall of Armenian Genocide Museum-Institute a session of museum education three-days training course was held. The course took place on 26-28 October under the title "Learning, Engagement and Museum".
The opening and welcome speech was delivered by Armenian Genocide Museum-Institute Deputy Director Suren Manukyan.
After the reports, exchange of experiences and discussions the participants visited Armenian Genocide Memorial and honored the memory of the innocent martyrs after which they visited the Genocide Museum and got acquainted with the museum exhibition, and preparation and organizing works of the museum exhibition.
The workshop is organized by Museum Education Center, Armenian Genocide Museum-Institute, Manchester Art Gallery, The British Museum, Cafesjian Center for the Arts, Association of Museum Workers and Friends, DVV International Armenia Country Office, Yerevan Brandy Company, ICOM Armenia, and RA Ministry of Culture.
The workshop was organized within the framework of the British Museum's annual international training program, and the initiative of experts Hayk and Marine Mkrtchyan and Davit Poghosyan who had participated in this program in 2014-2015.

The workshop focuses specifically on debating and brainstorming around four key issues –Family Learning, Teenage-friendly Engagement, Adult Learning and working with Older Audiences – and will also provide an opportunity for participants to reflect on and analyze the current Skills and Opportunities for Development within the museum sector. Internationally recognized experts in the field have arrived in Yerevan to participated in this workshop.