29.01.2022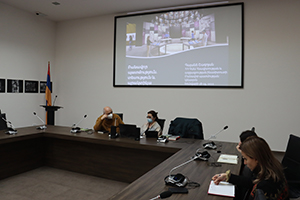 Dr. Gayane Shagoyan, a leading researcher of the Institute of Archaeology and Ethnography, National Academy of Sciences of the Republic of Armenia, gave three thematic lectures at the Armenian Genocide Museum-Institute's conference hall on the 18th, 19th and 22nd of January.
The topic of the lectures was oral history and its methodology. Their titles were:
. Theory and practice of oral history,
. Oral history in the museum,
. Questions and answers: ethnic and legal aspects.
The lectures were accompanied by active discussions, questions and answers relating to the collection, recording, assembly of written evidence and studying the oral history related to the Armenian Genocide.