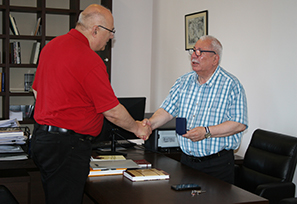 AGMI Director Harutyun Marutyan awarded Ara Stepan Melkonian, an independent researcher living in Great Britain, with the ′′James Bryce′′ memorial medal on September 22nd.
Mr Melkonian has been assisting the "Armenian Genocide Museum-Institute" Foundation for about three years by selflessly carrying out English-language translations and editorial activities. At present Ara Melkonian's English-language version of two genocide survivors' published memoirs in the "Armenian Genocide Survivors' Memoirs" series (No. 4), (Aram Mantashyan's "Aram could not be Seito", edited and annotated by AGMI researcher Regina Galusdyan who wrote the preface and Sokrat Mkrtchyan's "Memoir", edited and annotated by AGMI researcher Robert Tatoyan, who wrote the preface and the annexes, published as one volume in Yerevan in 2020) is in its final stages prior to publication.
During his visit to Armenia to participate in the three-day conference titled "At the crossroads of the Armenian genocide, Armenian claims and the Artsakh issue: retrospective evaluations and prospects", Mr Melkonian presented the AGMI with 30 English-language books of memoirs, collections and historiographical work concerning the Armenian genocide.
Ara Stepan Melkonian is of Partizak origin. The Melkonians were one of the village's founding families (it was founded in 1580). Most family members were killed on the journey to Ter Zor. Ara Melkonian's mother and aunt miraculously survived. Overcoming may difficulties, they settled in Great Britain, where Ara Stepan Melkonian was born and lives. His family's story has been presented in this year's temporary April exhibition titled "Tracing the Families of Armenian Genocide Survivors."