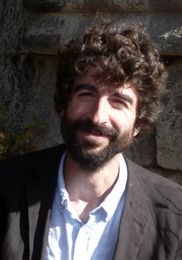 David Low is a PhD research student & teaching assistant of Courtauld Institute of Art, History of Art faculty, Somerset House, London. Academic Degrees: MA Hons, University of Glasgow, MA, with Distinction, Courtauld Institute of Art.
David Low is interested in the Armenian Genocide and photographic documents in times of war, specifically: photographic documents of the Armenian Genocide; and photographers in exile during the Second World War. His research outline is "Photographic documents of the Armenian Genocide". He has received several academic awards, including Courtauld Harold Hyam Wingate Scholar, UK Arts & Humanities Research Council award holder and speaks English, German, Spanish and a working knowledge of Armenian.
- Hello David, you have just finished your program of Raphael Lemkin's annual scholarship announced by AGMI. Will you tell us about your impressions?
Yes, I have recently completed what was a very productive, fascinating and enjoyable time in Armenia. I had visited the country once previously and was glad to have the opportunity to return, especially since this program allowed me an extended stay in the country. In all, including time spend engaged in research in Yerevan and time spent travelling, I was in the country for almost six weeks. This gave me the chance to not only further my own research but to get to know the country better. It was thus a wonderful opportunity for me, both academically and personally.
It took me a little while to get settled in, but after about a week things became easier as I became acclimatised to life in Yerevan. Days spent at the AGMI were largely productive. I would often arrive on foot and visit the memorial first thing in the morning, before then proceeding to the institute. I found the Tsitsernakaberd Memorial Complex to be incredibly striking and moving, and the place alone seemed to provide insight and inspiration.
At the institute I had a good comfortable space in which to study, and access to excellent resources. Most importantly of all I found the working atmosphere very welcoming and friendly, with everyone keen to speak to me (in Armenian, English or a strange mixture of the two!) and to help me wherever they could.
Evenings would be spend meeting people, exploring Yerevan, or simply reading in the apartment (or watching TV in an effort to improve my Armenian). At certain points I was able to make short excursions outside the city - to Echmiadzin and Sevan. With the arrival of my sister towards the end of my time at the AGMI I was able to explore a little more, and together we went to Dilijan before heading south to Yeghegnadzor, Sisian, Goris and Tatev. I was really pleased to see more of the country, and also to be sharing these places to my sister. Wherever we went I was struck by the beauty of the land and the friendliness of the people, and I have come to see these as the prime characteristics of Armenia.
- How do you learn about Raphael Lemkin's annual scholarship?
In the course of my research I have often used the website of the Armenian Genocide Museum-Institute, containing as it does a wealth of information. Especially considering the attention paid to photographs, the site has been an excellent resource for me. It was on the AGMI website that I saw the announcement, presenting to me the opportunity to study some of these resources directly in Yerevan rather than remotely over the internet.
- What gave you this monthly program? Could you realize your plans arriving in Yerevan?
Much of my research of the past two years has been through books and periodicals. My time at the AGMI gave me a much needed opportunity to spend time investigating and examining archival visual materials firsthand. Of these there is a wealth at the museum-institute, with the result being that there was perhaps too much material for me to realise my aims within one month! However, I did get through a lot of material and found much there of interest, with certain items in particular that I would like to investigate further and write about in the future. I would be keen to return to the museum-institute upon my next visit to Yerevan in order to explore these things further and complete any work left undone.
The museum-institute also gave me access to an excellent library, including many items of which I was either unaware or had experienced trouble finding in Britain. This was an impressive and truly international collection, with sources in a variety of languages. Spending a month reading Armenian allowed me to make great progress in my reading skills - although unfortunately, as you will remember, my spoken Armenian left a lot to be desired! However, I consider my improved reading skills, and thus improved ability to utilise sources in Armenian, to be one of the great advances from my time in Yerevan.
In terms of my Armenian I must thank Gevorg (Gevorg Vardanyan is the PhD at AGMI) for spending so much time with me and helping me improve my language skills (amongst much other help and assistance he provided me with!)
- What would you like to add or change in this scholarship's program?
Very little, for in the most part the program was very useful and things ran smoothly. One of the few problems I had was that I found it difficult at times to know exactly what resources and materials - i.e. books, photographs etc - the museum-institute had, and where they were to be found. Possibly one suggestion I would thus make would be that a comprehensive internal catalogue be available, making it easier for researchers to know what is available.
- Now let's speak about your study, especially your study concern the photos of the Armenian Genocide. What will you get at the end of your work? How did this program assist in the preparation of your scientific research?
I am part way through PhD research into this subject. My immediate aim is, of course, to complete this research and be awarded my PhD. Further aims would be to turn this research into a publishable book and to also use it as the basis for further research into this field. The ways in which history can be read and understood through photographs and other visual materials is my primary concern and I would very much like to continue in this field and in so-doing contribute to historical studies.
As mentioned, this program was of vital importance to my research in that it allowed me to study materials firsthand. I found many images with which I was familiar with but many more that I was not. Of these 'new' materials, of particular interest were Armenian and Russian sources. My time at the AGMI also gave me the opportunity to speak with other people about my work and the very specific field that is Armenian Genocide studies. In Britain my research topic is quite unusual, so it was thus good for me to spend some time in a place specially devoted to this topic.
- David, there were many applicants and it was really difficult for the scientific council of the Armenian Genocide Museum and Institute to select only one participant. Let me tell you, that we were really glad that you become the second winner of Raphael Lemkin's annual scholarship. AGMI has already announced the beginning of 2013 program. What will you wish the next winner and try to give him your advice?
I was extremely happy and honoured to receive this award, especially as I'm sure there must have been an impressive list of applicants. My time at the AGMI was productive and did much to further my research. It was a real pleasure to be your guest in Yerevan and to meet so many interesting people, all of whom made me feel very welcome indeed. My thanks go to everyone at the museum for making it a wonderful and unique experience, and my thanks especially to you for providing me with this great opportunity and for organising the trip.
To the next winner I send my very best wishes and I am sure that they will have a fascinating experience in Armenia. If need be please have them contact me, I would be very happy indeed to speak with them. It may be useful for them to speak with a previous winner and hear of my experiences.
- Thank you David for an interesting talk.
Thank you, Arevik, and my very best wishes to everyone at the AGMI. Շնորհակալություն!
The interview was conducted by the Press-secretary of AGMI, Arevik Avetisyan