30.04.2021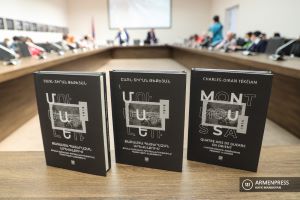 The Armenian Genocide Museum-Institute hosted a presentation of the memoir titled "The Four-Year War in the East: the Franco-Armenian Partnership During the War" written by naval officer, translator and participant in the rescue of the Armenians of Musa-Ler, Charles-Tiran Tekeian on 30 April, 2021. The author of the explanatory comments and notes concerning the memoir is philologist Karen Aristakesyan.
Dr. Harutyun Marutyan, AGMI Director, in his opening speech, noted the great work Mr. Aritakesyan had carried out and stated: "The work is replete with footnotes. Charles-Tiran Tekeian wrote using the language of an eyewitness, but 100 years later the characters and individual events are unknown to many, therefore the role of the researcher, Mr. Karen Aristakesyan, is of special importance."
His Excellency the Ambassador Extraordinary and Plenipotentiary of France to Armenia Mr. Jonathan Lacôte also greeted the participants. In his speech, Mr. Lacôte stated that he considered the memoir to be even more pivotal in the days after April 24.
"Musa-Ler is one of the prominent episodes in the history of Franco-Armenian cooperation. This work proves once more that there were officers serving in the French navy of Armenian descent who considered themselves both Armenian and French," said Ambassador Lacôte.
He also thanked all the participants for the successful production of this valuable work and added that memory is not only of the past, but also a great achievement for the future.
The author of the comments and notes, Mr. Karen Aristakesyan, noted that Charles-Tiran Tekeian's memoir is about the rescue of the people of Musa Ler, the Franco-Armenian partnership and the formation of the "Armenian Legion," and added: "I dedicated my greatest efforts to creating the annotations and enrich the text with photographs during the eight months I worked on it."
The participants were also greeted by Doctors of Historical Sciences, Professors Edik Minasyan (Dean of YSU Faculty of History) and Amatuni Virabyan (Head of the Chair of the Armenian State Pedagogical University), who expressed their appreciation of the work.
At the end of the presentation, representatives of the third generation of Musa Ler Armenians, Rev. Gegham Kesabelyan, the pastor of the Holy Resurrection Church in Parakar and the bibliographer Astghik Nersisyan shared their personal family stories.
The publication of the memoir was supported by the French Embassy in the Republic of Armenia, as well as Zohrab Tazyan and Hakob Jambazyan, descendants of Musa Ler Armenians.