30.11.2021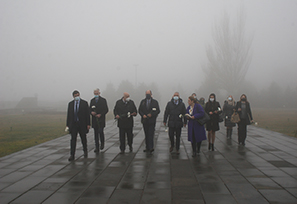 The delegation headed by Dimitrios Markopoulos, Member of the Greek Parliament, Head of the Greece-Armenia Parliamentary Friendship Group, who arrived in Armenia on a working visit, visited the Armenian Genocide Memorial on November 30, accompanied by the Chairman of the RA NA Standing Committee on European Integration Arman Yeghoyan.
The guests were welcomed by AGMI Director Harutyun Marutyan, who presented them with the history of the creation of the Memorial. He also told them the story of 3 khachkars placed in Tsitsernakaberd Park, which are dedicated to the memory of the Armenians who perished during the ethnic cleansing of the Armenian population within Azerbaijan at the end of the last century.
Greek guests placed flowers at the Eternal Flame and honored the memory of the innocent martyrs with a minute's silence. They also toured the Armenian Genocide Museum, saw with permanent and temporary exhibitions and at the end of the visit Mr. Dimitrios Markopoulos left a note in the Honorable Guests'.
Expressing his thanks to Dimitrios Markopoulos for the interest he showed during her visit, Mr. Marutyan presented him with copies of the latest AGMI publications.