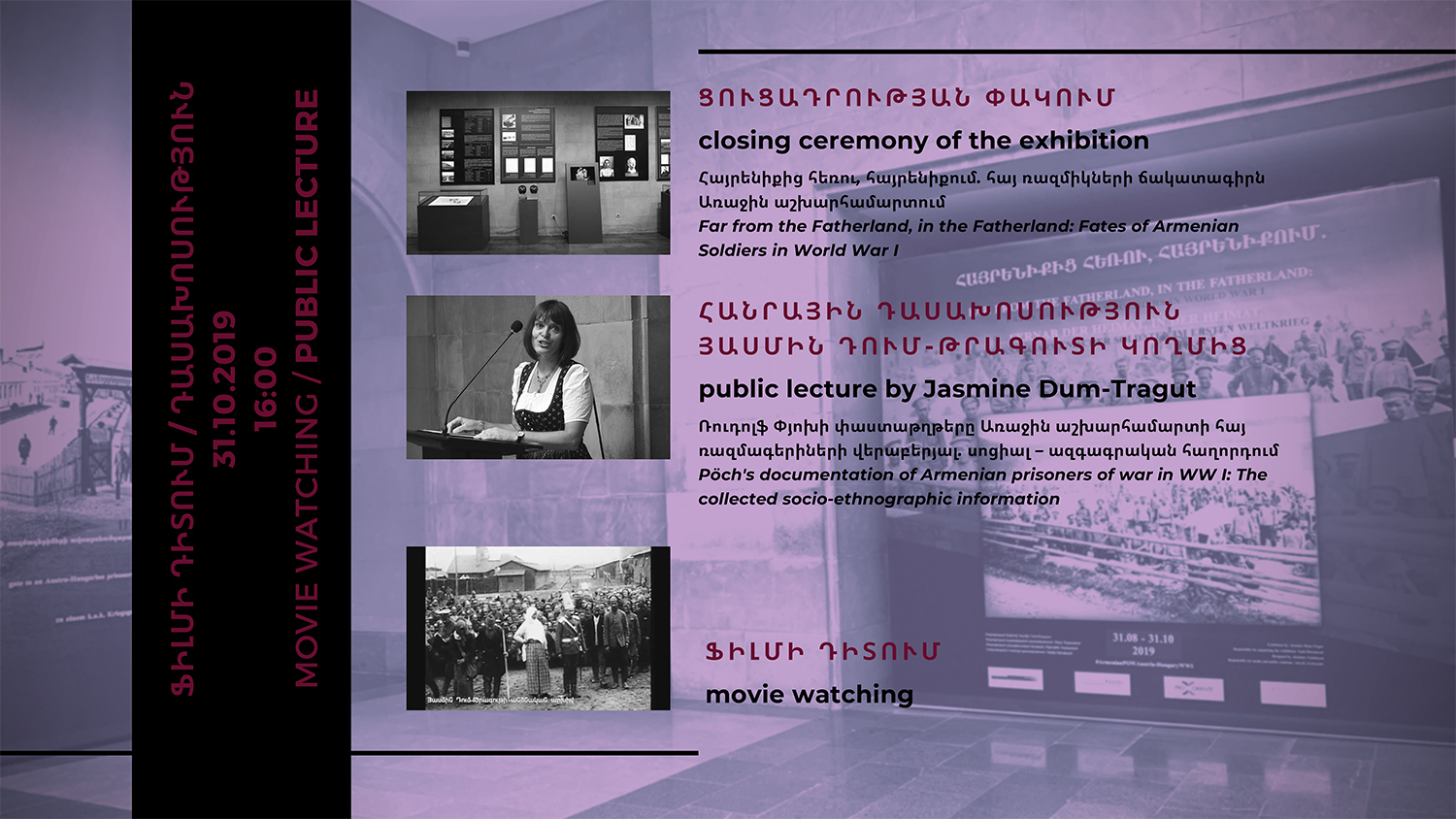 On 31 October, at 16:00, the closing ceremony of the temporary exhibition
"Far from the Fatherland, in the Fatherland: Fates of Armenian Soldiers in World War I"
took place at Armenian Genocide Museum-Institute. A welcome speech was delivered by the AGMI Deputy Scientific Director Edita Gzoyan. She expressed hope that cooperation with the Austrian Armenologist, author of the exhibition, director of the Center for Christian Studies at the University of Salzburg, Dr. Jasmine Dum-Tragut, will continue.
Mrs. Gzoyan awarded the AGMI "Aurora Mardiganian" medal to Jasmine Dum-Tragut for her contribution in the study of Armenians' participation in World War I and her many years of research in the field of Armenology. Jasmine Dum-Tragut confessed her excitement and being touched for this unexpected award:
"I am very grateful to the AGMI staff and administration for a platform to publicize my research. One of my eyes is smiling that the exhibition has taken place, while the other one is crying that it is closing. The two months that were given to the temporary exhibition have quickly passed. However, I am sure we will still work together."
Then the audience had an opportunity to watch the documentary movie "On the roads of Armenia: Jasmine Dum-Tragut," dedicated to the research activities of the Austrian Armenologist in Armenia, her meetings with families of POWs, etc.
"I speak three languages: German is my native language, English is the scientific one, and Armenian is the language of my heart. So let me read my lecture in English", mentioned the professor and delivered a speech titled "Pöch's Documentation of Armenian Prisoners of War in WWI: Socio-Ethnographic Information".
After the event guests had an opportunity to taste chocolate and cheese brought from Austria by Jasmine Dum-Tragut specifically for this event.