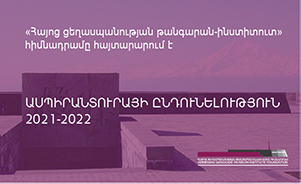 The Armenian Genocide Museum-Institute announces admissions to Doctoral degree program (in-person) for the current academic year 2021-2022. This is in accordance with decision No. N 799-N of 20 May 2021 made by the Government of the Republic of Armenia and titled "On approving the places of admission to Doctoral degree programs and their distribution among the higher educational institutions and scientific organizations of the Republic of Armenia for the 2021-2022 academic year".
Applications are being accepted from May 31 to June 28, 2021.
The relevant documents must be submitted to the AGMI Foundation, 8/8 Tsitsernakaberd Highway, Yerevan.
An application for admission to the Doctoral degree program must be submitted by the person concerned or an authorised individual to the head of this institution, with the following documents attached:
1)
A copy of Bachelor's and Master's diplomas and their appendices. (For those who have received higher education in foreign countries, a document showing the adequacy of their education). The current year's graduate-applicants may submit a relevant reference to the qualification level of their higher professional education instead of a diploma of higher education for this year, until a Master's degree or specialist diploma is submitted.
2)
Certificates or corresponding references (with an internal threshold set with a score) for a foreign language, informatics and information communication basics subject
3)
A copy of at least one scientific work or scientific paper published of at least 20 printed pages in the candidate's chosen field.
4)
A CV and three photos (3 x 4 cm size)
5)
An extract from their workbook (if available).