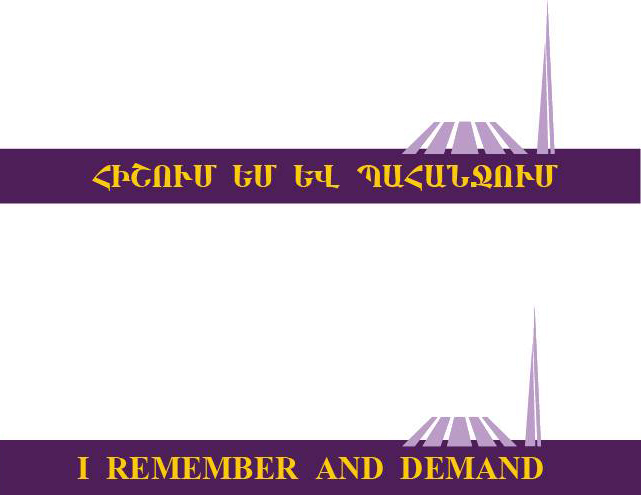 Dear compatriots,
The call of Armenian Genocide Museum-Institute on the eve of the 105th anniversary of Armenian Genocide clearly states: "The Armenian Genocide has long gone beyond ethnic memory that is – only being a crime against the Armenian people, of being a mere Armenian tragedy; it is a universal tragedy, one of the greatest crimes against humanity. It is an evil, the international recognition and condemnation of which, as well as the issue of the elimination of the consequences, are to be found within the realm of the struggle for justice". The response issued by AGMI in the following days stressed that "The Declaration adopted on the occasion of the 100th anniversary and the slogan "I remember and demand" are an integral part of our identity, history, and struggle".
After two days, AGMI clarified that in the proposal presented to the public "no political goal has been pursued… Demand, as it was, continues and will continue to be at the core of our struggle, as it is an integral part of our identity".
Taking into consideration, that the proposal of Armenian Genocide Museum-Institute to replace their photos on their Facebook page with the photos of their relatives, be they victims or survivors, with the phrase "I remember" has created some misunderstandings and a wrong impression about the change in the political line, we have decided to avoid possible speculations, to disperse the concerns of our compatriots and to change the phrase and use the slogan adopted in 2015 and put forward in the "Pan-Armenian Declaration of the 100th Anniversary of the Armenian Genocide" "I remember and demand".
Our main offer and request to our compatriots remains the same - to replace their photos of users on their Facebook page with photos of the victims and survivors of the Armenian Genocide and share their stories.
Հայերեն՝
ՀԻՇՈՒՄ ԵՄ ԵՎ ՊԱՀԱՆՋՈՒՄ
Դասական ուղղագրությամբ՝
ՅԻՇՈՒՄ ԵՄ ԵՒ ՊԱՀԱՆՋՈՒՄ
Արևմտահայերեն՝
ԿԸ ՅԻՇԵՄ ԵՒ ԿԸ ՊԱՀԱՆՋԵՄ
In English
I REMEMBER AND DEMAND
На русском
ПОМНЮ И ТРЕБУЮ
In French
JE ME SOUVIENS ET J'EXIGE
In German
ICH ERINNERE MICH, UND ICH VERLANGE