12.05.2021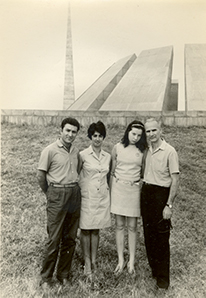 Marie Kotikyan, a relative of the historian, teacher-educator, director and acclaimed writer Georg Mesrop, donated his personal library (late 1800s - 1930s) to the Armenian Genocide Museum-Institute Foundation. By an interesting coincidence, the ceremony of this important ceremony coincided with the 140th anniversary of this birth.




Gevorg Mesrop (Gevorg Ter-Mesropian) was born in Partizak on12 May 1881. He received his primary education in Partizak under the supervision of Abraham Varzhapet, then in the co-educational community school. He has studied at the theological seminary in Jerusalem and, immediately after graduation, began his teaching career. He returned to Partizak in 1904 and was ordinated a deacon at the Armash theological seminary by Patriarch Maghakia Ormanyan.
Gevorg Mesrop continued his teaching mission from 1908. He worked as a teacher-principal in Rodosto, Adabazar and Constantinople, teaching Armenian language, Armenian history, history of Armenian bibliography and geography. He also taught history of Armenian Civilization and history of Armenian Diplomacy in the senior classes of the Central High School (1).
In the booklet published on the occasion of Gevorg Mesrop's jubilee ceremony on May 26 1929, we read: "As one of the most striking figures of the Armenian intelligentsia, Gevorg Mesrop was also on the list prepared by the Turkish government in 1914-15…. Although he not included in the mass arrest of the Armenian intellectuals, his father-in-law, Philippos Kazanjian, was arrested in his stead…." (2).
Gevorg Mesrop left for Bulgaria with many others in 1922 and continued his activities as an "Armenian educator". He founded the Mesropian Lyceum, a boarding school for boys and girls in 1923. In 1926-1927, he faced great difficulties; the Bulgarian government forcing the school to have its own building, threatening it with closure. Fortunately, thanks to benefactors, the Lyceum constructed its own building (3).
The Mesropian Lyceum operated until 1937. Gevorg Mesrop continued his activities in the field of education and in society, and as a correspondent for the Armenian press. He died on September 30 1948 (4).
Tehmine Martoyan
Researcher, AGMI Department for Organising Museum Exhibitions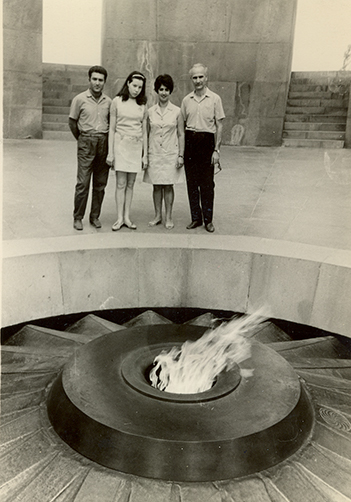 From left; Zari Tangaranyan (Gevorg Mesrop's granddaughter).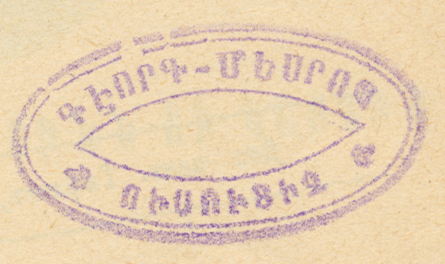 The personal seal of George Mesrop.
_________________________________
1. Yervand H. Kasuni, Predestined Genocide, Research, Gevorg Mesrop's "Turkish-Armenians and Turks" according to document data, Y.H.K, Beirut, 2015, p. 326.
2. Ibid, 327.
3. Ibid, 332.
4. Ibid, 333.