24.09.2016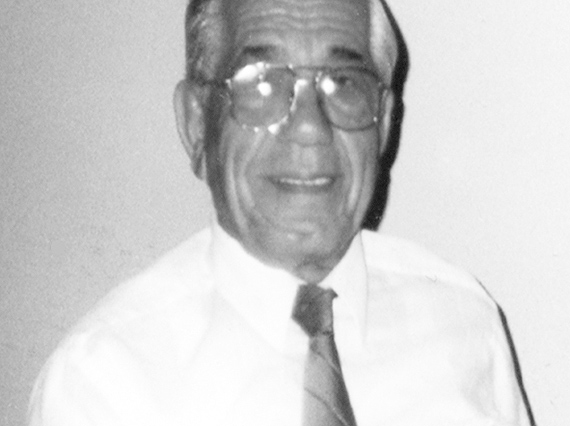 Martiros Ashekian was born after the Armenian Genocide, in 1927, in Syria's Aleppo. He tells how he met a Bedouin one day, who escorted him to the Armenian Cave. The Bedouin told the story of how the Turks gathered and burned 40,000 Armenian Genocide survivors in that cave.
"...I, Martiros Ashekian, was born in 1927, in the Zeytounkhan Camp of Aleppo (Syria), where the survivors of the Armenian Genocide had arrived after going on foot, for weeks on end.
In 1948, I was working for the Syrian Petroleum Company, near Palmyra, in the desert of Dallaa where we were digging oil-wells.
While we were working in that camp, an Arab watchman used to come often there to take water. I and Garnik Norashkharian, Yerjanik's son from Zeytoun, saw everyday small girls wearing Arab dresses who had blue eyes and fair hair. They came to watch how we were working.
One day that Arab watchman called these little girls and told them in Arabic: "Don't be ashamed, come nearer, these are your uncles."
We asked them: "Where is your mother?"
On the next day, they came with their mother, a lean woman about 40 years old, with a beautiful face, fair hair and blue eyes.
We asked her in Arabic: "How do you remember being an Armenian?"
"I only remember," she answered, "we used to say 'hots' (hats – Arm.) for 'khebez' (bread – Arab.) and 'jeor' (joor – Arm.) for 'maye' (water – Arab.)."
From the dialect she spoke in we understood that she was from Zeytoun. We asked her: "Where did you live in Zeytoun?"
"We had a locality called Dsovk in Zeytoun. It was a valley, and a small river flowed in it."
"Do you remember your parents' family name?"
"Yes, it was Dovlatian."
Then we definitely knew that she was an Armenian from Zeytoun.
We were transferred later to the right side of Dakka, on the road to Tetmor, where there was a field called Dallah. We dig pits. Then we were transferred to Jeziré.
In 1950, the British constructed a camp there, and we also moved to work there. That was on the east of the River Khabur, about 45-50 miles from the Iraqi border, before getting to Djebel (Mount) Sinjar. Part of this mountain is in Iraq and another part is in Syria. Our camp was called "Hunahuezia." Everyday we went there to dig oil-wells. The British SBC company provided us with lunch every day. We ate and when we were satiated, we called the Arab Bedouin shepherds to partake of our lunch. They were members of an Arab nomadic tribe called Jbouri. We used to call them in their language: "Yawel henhen ho-ho! (Come here! – Arab.)."
One day an Arab shepherd came to our table. We asked him: "Where are your sheep?"
"Here," he replied. "They are not far away. My sheep are behind Nougret-el-Arman (the Armenians' Pit – Arab.)."
We pricked up our ears and asked: "Can you show us that place?"
He consented. I and my Armenian friend, Garnik, accompanied him there. It was about a mile away from our working-place, a locality called Jesser Sheddadié, on the River Khabur, near the bridge leading to Iraq, a place named Chibisi where, at one time, the Germans had started to dig oil-wells, but since they were defeated in the Second World War, they had left it unfinished and gone away, and we had taken up the job of drilling oil-wells in that region.
We went inside the dark cave. I had taken with me a torch and a sack. The Arab shepherd said: "We always enter this cave of Jesser Sheddadié, which is 7-8 miles long, to take out gold bracelets, tooth-crowns and other ornaments."
We went about 50-60 meters deeper in the cave and we came across a pit 10-15 meters in diameter. On one side, the cave continued deeper in the direction of the River Khabur.
The Arab continued: "After Der-Zor about 70 miles to the north-east there is a desert where there is no water and no sown fields. The Turks brought here about 40 thousand Armenian survivors miraculously saved from Der-Zor, tormenting them on the road, making them go on foot for 70 miles on the scorching sands of the desert without giving them a drop of water. They brought these poor Armenians, who were emaciated, and all skin and bones, and packed them all alive in this cave or threw them in this pit. Then they brought thorny bushes and tree-branches and covered the mouth of the pit and the entrance to the cave and set everything on fire. I am now 65 years old and I remember very well; I saw everything with my own eyes. The poor Armenians were about 'Arbayin alf nafar' (Forty thousand people – Arab.)."
We went deeper, about 200 feet, into the cave with our torch and the sack. Human bones and skulls were under our feet. We filled our sack with some bones and skulls. The light of our torch began to fade and finally went out. We were in total darkness and, holding each other's hand, we tried to find our way out of the cave. We groped our way, falling and getting up on the bumpy ground, down the grotto. At last we saw a glimmer of light. We were glad that God showed us that light and led us to the wide world. I recited the Lord's prayer and drew a large cross before the entrance of the cave. I took the sack of bones with me and kept it under my bed. I should have delivered the sack of bones to the church. But I was too young at that time and I did not know what to do. I buried it later in my deceased sister's grave.
Later, when I went to Aleppo, I told my sad adventure to our Zeytounkhan people. Everybody listened with attention; one of them exclaimed: "I have escaped from that pit. I have come out from under the corpses, when the rain waters started to flow into that pit from where they joined the Khabur River. After the sufferings of the deportation, the elderly people and children, who were still alive, but hungry and thirsty and reduced to bags of bones, were packed into that pit and cave and were burned alive."
Verjine Svazlian. The Armenian Genocide: Testimonies of the Eyewitness Survivors. Yerevan: "Gitoutyoun" Publishing House of NAS RA, 2011, testimony 383, pp. 544-545.