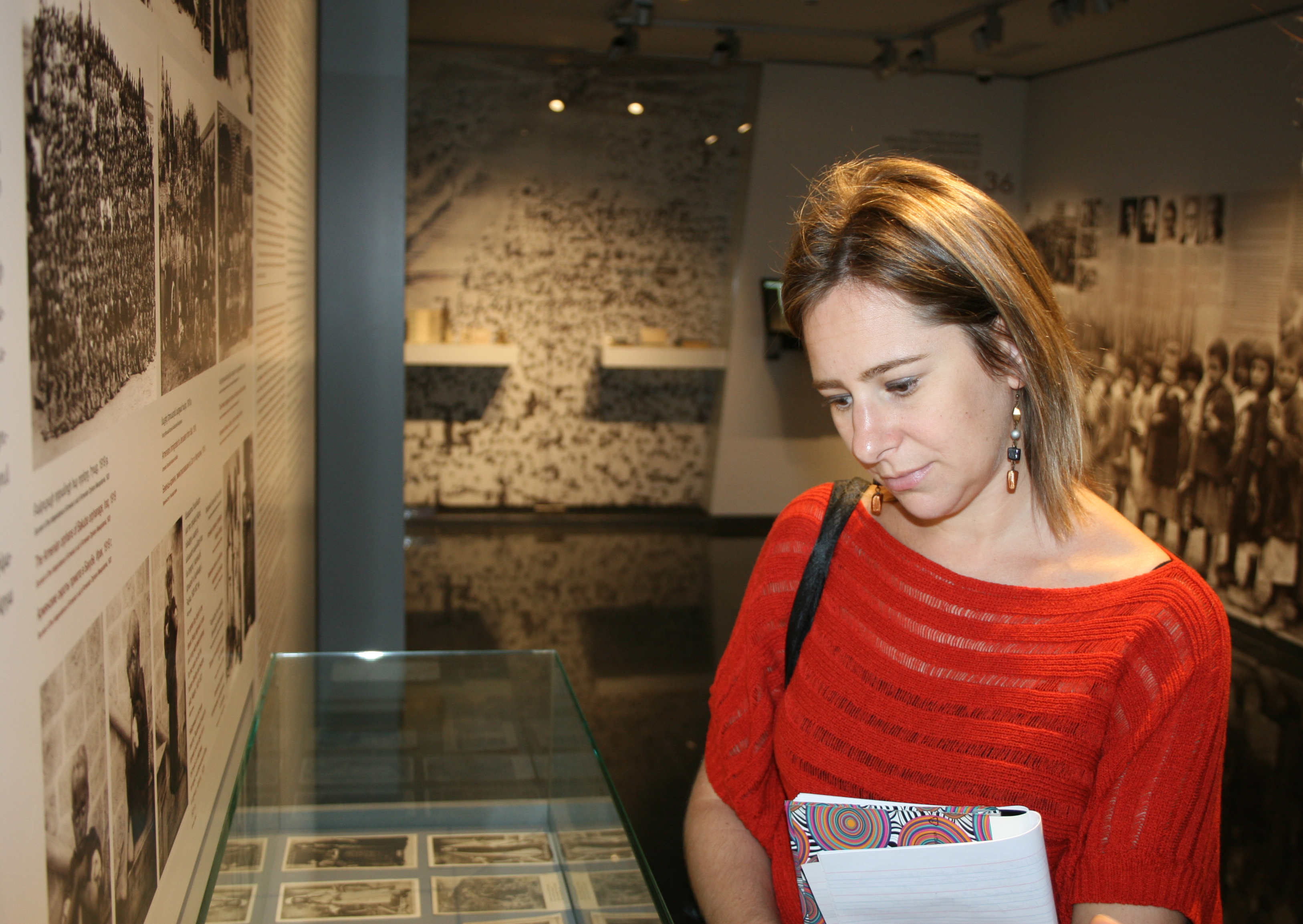 Nikki Marczak is australian genocide scholar, an independent researcher with the Australian Institute for Holocaust and Genocide Studies (AIHGS) and member of the International Association of Genocide Scholars.
Nikki has had a presence amongst the Armenian community, notably delivering the keynote address at the Centenary of the Armenian Genocide Commemoration in Melbourne. She has a Master's degree in Holocaust and Genocide Studies and has worked in research and policy development for many years.
She is currently working on a number of articles relating to the Armenian Genocide, including a comparative analysis of the experiences of Armenian women and the horrors currently facing Yezidi women in Iraq.
-Hi Nikki, very glad to welcome you in AGMI. You are the first Australian who win the Lemkin Scholarship. What can you tell about your research topic? Does your study in AGMI within this period supported to improve your knowledge on the Armenian Genocide?
-I am interested particularly in two aspects of the Armenian Genocide and where these intersect. Firstly, how Armenian women resisted the genocide by defying their oppressors, maintaining their cultural traditions, helping one another to survive and instilling pride and dignity in their children in the face of terrible dehumanisation. Secondly, I am interested in the intergenerational impact of the genocide, how descendants view stories of resistance and what feelings they have about the actions of their grandmothers/great-grandmothers. Not only did the Lemkin Scholarship provide an opportunity to research books and unpublished testimonies, but I was also able to interview descendants of survivors. They told me incredible stories of resilience and many also expressed that they find strength in their own lives from the actions of their grandmothers and great-grandmothers. I want to say
shnorhakalutyun
to everyone who shared their memories and their family's story with me.
-You are currently working on a theme relating to the Armenian Genocide, it is including a comparative analysis of the experiences of Armenian women and the horrors currently facing Yezidi women in Iraq. Tell a little about that.
-The way that ISIS has been committing genocide against the Yezidi community since 2014 holds many parallels with the gendered nature of the Armenian Genocide a century ago. The massacres of men and the elderly, abduction and forced conversion of women and children, and systematic sexual violence and trafficking, were all tactics used by the Ottoman authorities against the Armenian population. Yezidis and Assyrians were also targeted a hundred years ago, and indeed there are monuments commemorating the victims in Yerevan, which I visited during my time there. I believe we must learn from the study of Turkish crimes to inform our responses to current genocides of religious minorities by ISIS. To this end, I've written a chapter about the similarities in the crimes committed against women particularly, and am working with Yezidi organisations to advocate for recognition of ISIS's actions as genocide and to hold perpetrators accountable.
-Whether this month was productive for you?
-My time at AGMI was spent wandering the exhibitions, paying my respects at the memorial, reading documents from the archives and library, not to mention enjoying a morning coffee and Armenian cakes with my colleagues! As well as meeting some descendants of survivors, I talked to many genocide scholars who are exploring a range of elements of this terrible period of history, as well as others who are involved in some way – journalists, anthropologists, photographers and more. We had some very productive meetings where we shared our research and I learnt much from all of them. I also had the opportunity to meet representatives of minority communities – Jewish, Assyrian and Yezidi – who call Armenia home. Overall I am bringing back to Australia a wealth of information and am looking forward to the challenge of distilling this into an article for the AGMI journal.
-What expectations you had, when you decided to apply to Lemkin scholarship?
-When I applied for the scholarship, I knew that the resources at the museum would provide a depth of understanding that is unavailable from a distance. But I was also greeted by Armenian hospitality and amazed by the time people were willing to spend with me. The knowledge gained from walking around a city with a local is as valuable as that acquired reading books in a library.
-What about your impressions from the country, AGMI, people
-I leave Armenia with the impression of having felt at home, of being welcomed and making genuine connections with many people I met. I came to Armenia to delve more deeply into survivor testimonies and I certainly have discovered much about the experiences of women during the genocide. But I have also learnt more about Armenia, about its ancient history, its rich culture, the streets of Yerevan, the mountains and green hills of the countryside, the warmth of the people. From Cascade to the Dancing Fountains, from Noravank to Tatev and beyond, I take a piece of Armenia back with me in my memories.
- And a question that we give to all alumni. What would you like to change in this program?
-One month is a short time to really integrate into a new country and a new workplace. Just as I became truly comfortable in Yerevan, knew my way around and adopted a routine for studying at the museum, my time was over! I'd love to have been there a little longer to read more testimonies, conduct further interviews, meet with descendants more than once, and consolidate relationships at the museum and other institutions.
- Thank you so much, Nikki.
© Armenian Genocide Museum-Institute.