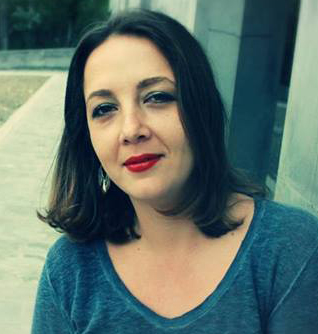 SUZAN ROSITA MERYEM KALAYCI Ph.D. student at the European University Institute (Italy) and Raphael Lemkin Fellow 2014), author of academic publications. She works on thesis entitled "The Silent Nation".
In her research she touches upon what role has the Armenian genocide played in creating this collective singular Turkish historical consciousness, and what role can memory politics in the aftermath of genocide, massacres and atrocities play in challenging nationalist historiography, how does the – what the psychoanalytical literature terms – 'coming-out', the post-genocidal trauma of both the perpetrators and the victims, affect a society and the language that describes it?
Her dissertation investigates the specific historical trajectories and the origin of the Armenian Genocide denial in Turkish national history. The concept of historical silence, which is at the core of her PhD dissertation, shows that while there are simultaneously existing layers of historical memory and that they have a clear hegemonic positioning in relation to the official national discourse.


- Dear Suzan, could you please tell more in detail about the topic of your research?
My PhD thesis is titled "The Silent Nation". The Silent Nation looks at the Armenian Genocide not only as an important moment in Armenian history but also as an important moment in the history of the Turkish nation. So, basically I am looking for what kind of influence the post memory of the Genocide, or rather the non-existing memory of the Armenian Genocide in Turkey, it had on the Turkish society.
The Genocide had a very important influence on the Armenian nation, and I believe that it had an equal important influence on the Turkish nation. In my work, I am looking at how was the Turkish nation turned silent, because from scholarships to many books and historical sources we know that Turkey was silent after 1922, after the tribunals we had in Istanbul, basically we are looking at a nation which was proclaimed in 1923 by Ataturk and didn't speak about the Armenian atrocities anymore, I want to speak about why this nation is silent, so I basically decided to be here to study the reason of this silence, and the first chapter is about the "Antoura" orphanage, where Armenian and Kurdish children were gathered (1916-1918) , and the directors of the orphanage were missioners, but they were Turks connected with CUP leaders.
At the orphanages Turkish names were given to the Armenian children, they were turkified and treated very cruelly. In my study I refer to that orphanage, how the Armenian children were turkified and what was behind the Turkification, and what happened after in the republican times. At that time, in 1915 there wasn't a Turkish nation, so we can take the Antoura orphanage as a kind of preparation for the Turkish nation. So, this is my first chapter, than I have five chapters about the Turkish nation and my last chapter is about what happened to the orphans of the "Antoura" orphanage after WWI.
- It is not your first visit to Armenia, was this second trip different for you?
- First time I came to Armenia was three years ago when I was invited to participate in Turkey-Armenia film platform to pitch for one of my movies, that time I came with my father and we arrived late at night. The next morning my father said that he didn't want to go into the city and meet our Armenian friends and colleagues before having done two things: first to visit the Armenian Genocide Complex, and we came here on Monday and the museum was closed, so we put flowers near the eternal fire and looked at the engravings on the stones, and we couldn't find the name of my father's town, which is Ayntap, and my father was very disappointed, and the second thing we wanted to do was to visit the museum of Parajanov.
We spent five hours there in the museum and my father said: now we are ready lets meet our friends and colleagues now! I think he was right, because coming from Turkey, the first justified question to be asked is, of course, "what do you think about Genocide?" and the second question, "what do you think about Armenians?" knowing that there in Turkey we have not a lot of information about Armenians, so we had two perfect answers, because we went to the Genocide Museum and we knew about Armenian culture. We admire Parajanov movies so much, and know all his works, so this was our entrance to Armenia.
I am here for the second time, but this time I am not here as an artist but as a scholar and there is a huge difference for me. First of all I am working here in the Genocide Museum, which is great for me. I think the Genocide Museum is one of the biggest monuments in Armenia. It means a lot to me to be in Armenia and as a Turkish person it is amazing to be able to work here.
When I got the acceptance of Lemkin scholarship I cried, because I was very proud. It is amazing first because it is a very good sign and a huge step to invite a scholar from Turkey, for politics I guess, and for the relationship between Turkey and Armenia. The Armenian TV is very interested in me, they want to interview me, because it is a very good sign to introduce to Turkish and Armenian scholars that I am actually working on that topic and I think this is very important, it is also very important for my family, they said: this is what exactly what you have to work for, probably this is the time that we are most proud of you, and this is what we wanted you to do.
What expectations you had, when you decided to apply to Lemkin scholarship?
First of all, it is really important for me as a scholar to know what kind of historical documents are there in Armenia and to realize what was the memory of the Armenians and how is the Armenian Genocide commemorated because what is done in Armenia is not done in Turkey. I think the Armenian commemoration and the Armenian memory of the Armenian Genocide can be imagined as a photograph of the events and in Turkey we have exactly the negative of it.
However, for me silence can be also full of words, there is no memory of Genocide in Turkey and I wanted to see what Genocide memory could look like, so I wanted to look at something which is not there. It is really difficult to explain silence and non-existing commemorative practices if you don't know how it was and is commemorated. It is very important to be here in month of April, the 99 Anniversary of the Armenian Genocide, and to see how Armenian people dealing with it.
For example, when I met Mrs. Svazlyan at the conference, she spoke about the Armenian Genocide and that she collected survivors' stories. One afternoon she invited me to event and all survivors' children came and basically the surviving generations, they all talked in Armenian and I didn't understand them, but I still think that I understood so much, because Mrs Svazlyan gave a book to each surviving family and then the child or the grandchild of Genocide survivors gave a speech and it was extremely interesting.
Mrs Svazlyan asked me if I understand everything, I told her that understood everything, I laughed together with them, I cried together with them, I was screaming together with them, for me it was such a spiritual experience to share the pain with them, and sometimes the pain is very connecting, they didn't know that I was Turkish, but they found out it at the end and all looked at me surprised, and were very proud that a Turkish person is sharing all the emotions with them, because they think that the Turkish people has no emotions. This was very important to me.
Whether this month was productive for you?
It is very difficult to make a summary, in my interviews I asserted that Armenian scholars don't publish in English and if they publish we don't have those books in our university. I was a fellow at Yale University, which has one of the biggest libraries in the world, but still Armenian scholarship was under-represented. So the books I found at the AGMI, I didn't find them in that library, so there is a huge gap there in the western scholarship related to the Genocide topic, we don't have any sources from the Armenians, we barely have any articles from Armenian scholars, but all the scholars here in AGMI are very brilliant, they are amazing, and they have very high academic standards, but they don't publish in English, so we always use the same sources and read the same journals.
The Armenian scholars have the access to much different documents. I have access to documents in Turkish, English, French, Italian and all the western languages, but I don't have access to the Russian and Armenian documents. It was very important for me to meet a lot of Armenian scholars, so it was nice to meet them and discuss different topics with them.
I met Roobina Peroomian and she taught me that commemoration «is a way of protest». I met V. Svazlyan, Harutyun Marutyan, those are the major scholars of the field right now, and of course the new generation of scholars probably working here I find like my knowledge doubled.
Which kind of professional contacts you could establish during this period?
I have smart Armenian students who saw me on television. They are Armenian students that I have met in university and I was able to give workshop and talk to them and I think this is extremely good for me.
Especially in the context of trauma, I think it is very important for new generation of Genocide survivors to talk to Turkish people, to find someone who respond to them because until now Turkey is not speaking and is denying, and what happened now is that I as a Turkish person they are able to speak to me, which makes them feel relaxed, also for me the most important contacts are the students, because as a scholar it is great for me to teach something and be asked to teach them something.
-With which impressions you leave Armenia?
I think the program is excellent, and I think next year there will be a lot of applications from Turkey, because I think the scholars who are working on the Armenian Genocide can find no better place to research than AGMI, because Mr. Demoyan and all the scholars here are unbelievable in their academic research, I think that there is a centre or institution that can provide the scholars better structures.
-Do you have plans to collaborate with AGMI in the future?
Yes, I talked about it with Dr. Demoyan, and I think my "Antoura" chapter will be published, and I will be happy to come here for conferences, or to be here for workshops, I would be super happy to come again.
-What will you wish the next Lemkin Fellow and which advice you would like to give?
It is very important for the future Lemkin Fellow especially in the next year 2015, that they should be scholars who work on memory and commemoration, and be very aware of what happening between Turkey and Armenia and be very aware about the subject, this would be my advice for next years' Lemkin Fellow because it would be very heavy to work here next year to work as a scholar.
And that you have to understand that as a scholar to go away from being scholars and be human beings and keep contact with others, and me as a Turkish person I will tell all the Turkish scholars who doesn't deny the Armenian Genocide, to come here to AGMI and work and first of all present her/himself as a person not as a scholar, I think this is very important because we are working on a subject and it is important to speak on a human level and sometimes get the historical documents out of the way and meet each other heart to heart, face to face, eye to eye, and the other important thing is that the Genocide is very vivid in our memories, because the similar is happening right now in Syria.
In this context we should remember what it means to be a Lemkin scholar: it is also being an activist or humanist, because Lemkin was not only a scholar, but he was activist or humanist, and people who want to apply for scholarship, should have the similar visions and can sometimes do things which is beyond an academic research.
I sincerely thank Mr. Demoyan for all the help he has given me for giving me this unique opportunity.