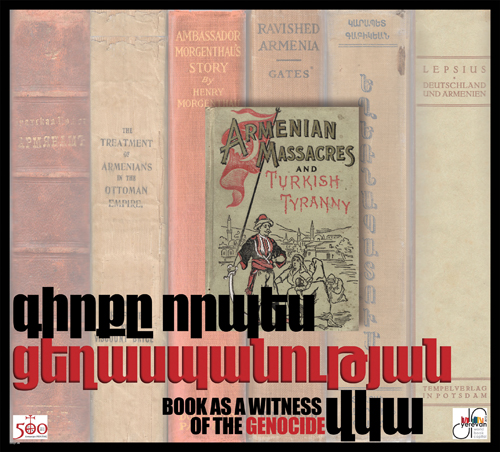 On April 23, at 12:00 the temporary exhibition titled "Book as a Witness of the Genocide" will be opened in the Armenian Genocide Museum and Institute. The exhibition is organized on the occasion of the 500th anniversary of the Armenian printing and the proclamation of Yerevan as 2012 World Book Capital City by UNESCO. The exhibition includes about 300 first editions on the subject of the Armenian Genocide, which are either printed early or are primary sources.
The books represented in the exhibition are grouped under different headings. Traveling notes, text-books and publications referring to the social, cultural and business life of the Western Armenians are exhibited in different tables. Separate tables present publications of the pro-Armenian movements that followed the Hamidian and Adana massacres, unique publications printed in Germany, U.S.A, Great Britain, Sweden, France, Russia and other countries, which represent undeniable evidence of the crimes committed by the Turkish political regimes against humanity and civilization. The greater part of the exhibited books was published during the genocide perpetrated against the Armenians by the Ottoman government and is the solid evidence against Turkish denial.
The rare and valuable books, which are presented in the exhibition, were acquired with the support of Serzh Sargsyan, the President of the Republic of Armenia, Jevan Cheloyants (Moscow), Ralph Yirikian, VivaCell-MTS General Manager, Tigran Kalayjyan (Cyprus) and "Pyunik" All Armenian Relief Fund. The collection of the Armenian Genocide Museum and Institute's library has been enriched due to the contribution of Matthias Bjørnlund (Denmark), Laura Daun (Sweden), Suren Bayramyan (Egypt), Rouben Galichian and others.
Some of the books included in the exhibition can be found only in the collection of the AGMI.
The Armenian Genocide Museum and Institute expresses its gratitude to the National Library of the Republic of Armenia, Fundamental Scientific Library of NAS RA and the Library and Museum of ARF Bureau for their assistance in the organization of the exhibition.