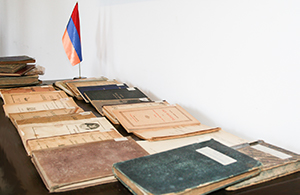 "Armenian Genocide Museum-Institute" Foundation's library has been replenished with 61 antique books.
The books were donated to the Armenian Genocide Museum-Institute by "Khoren and Shushanik Avetisyan" School. The event was attended by school director Dr. Melanya Geghamyan, Armenian language and literature teacher Zarmik Sargsyan, Western-Armenian language specialist Hagop Mikaelian, as well as 10th grade students Lyova Khoyetsyan and Nare Bagratunyan.
The list of donated books includes antique books published in different countries in the late 19th and early 20th centuries, textbooks on educational life, guides, translations of works by famous foreign writers. This collection of books is a unique source for scholars to study the organization of educational life in Armenian schools in the Ottoman Empire.
In its turn the Armenian Genocide Museum-Institute donated some of its publications to Avetisyan School Library.
We are grateful to the administration of Avetisyan School for this initiative.
A few days ago an exhibition of those books was organized in the library of Avetisyan school