23.12.2008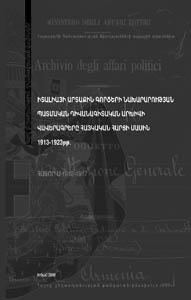 The Armenian Genocide Museum – Institute has published diplomatic documents of the Historical-diplomatic archive of the Ministry of Foreign Affairs of Italy on the Armenian Question 1913-1923 from the series of "Armenian Genocide: diplomatic documents" being published by AGMI.
The period of 1913-1923 is crucial period in the history of the Armenian question. The only Great Power of those times is Italy in which's archives preserved documents on the Armenian question and the Armenian Genocide till the last times were almost unknown to the Armenian society. At the beginning of 2005 by the intercession of the Embassy of Armenia in Italy, we've got permission for researching these documents in the Historical Diplomatic Archive of the Ministry of foreign affairs of Italy.
The researches showed that the documents concerning to the Armenian people are deposited under the name Armenia. This fact is very interesting, as we see that the territory on which were living Armenians in the Ottoman Empire was comprehended as Armenia. These documents are conditionally marked with a number 60 and are deposited in the different files of the Archive. These files are.
1. Political Serial P (Serie Politica P ) 1891-1916.
2. Political archive-general and governmental (Archivio Politico-ordinario e di gabinetto) 1915-1918.
3. Political affairs (Affari politici) 1919-1930.
4. Peace Conferences (Conferenze della pace) 1919-1923.
Besides of these 4 main groups there are documents concerning to the Armenian question in the archival materials of the Embassies of Italy to London, Paris, Petersburg, Berlin, Vienna, Constantinople and in the different files where are deposited the documents concerning to Turkey.
In this first volume are presented 225 documents concerning to the events of the years 1913-1917. It also includes impressive documentation on the Armenian Genocide.
In particular, above mentioned diplomatic documents of the work's first volume are especially important as they are chronologically related with the facts of the Great Genocide and at that period of time with a documentary statement they throw light on the Armenian massacre's planning and preparation as well as on the realization facts.
In the second volume will be presented the documents concerning to the events of the years 1918-1923.
The documents are totally presenting to the society for the first time. Nevertheless this two volume edition includes the documents of the years 1913-1923. More, than 20 documents in the appendix of the first volume on the Armenian massacre of Cilicia in the years 1908-1909 for it's more comprehensive research. These documents as well are put into circulation for the first time.