12.04.2018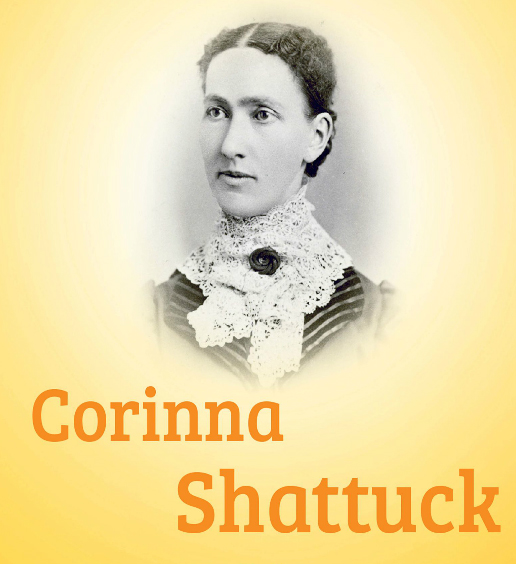 Corinna Shattuck was born on April 21, 1848, in the city of Lyuisville, Kentucky, USA. After her parents' death, she moved to Acton, Massachusetts to her grandparents, where she spent her childhood. She studied pedagogy at Framingham normal school (now Framingham State University). In the fall of 1873, as a missionary of the American Board of Commissioners for Foreign Missions she left for Aintab. From 1873 she helped Armenians of Aintab, Urfa, Marash, Adana and Kessab.
In 1892, she finally settled in Urfa and took the management of the missionary work there. By threatening her own life she sheltered and saved the lives of 240 Armenians in her home (60 men, the rest - women and children) during 1895 Urfa massacre. She did not use her right to move to Aintab, preferring to help the Armenians from the massacres. The missionary did not spare any effort to care for orphans, feed the homeless, and heal the cuts of the wounded. She established an Orphanage in the Protestant School, and soon the number of children in that orphanage reached 300. Avetis Sanosyanm, one of the inmates of the orphanage wrote; "This noble missionary tried in every way to be useful to the people, if someone needed clothes, she had to find a mean to provide him/her with home and meal. If the orphans had to gather upon one shelter, then they should be educated. If the people were already dressed and well-fed, it was also necessary to think about their psychological consolation, for they were all confronted with disaster and lost their loved ones. Finally, Miss Shattuck thought of every requirement and in every direction, she made plans and immediately turned them into action".
At the orphanage, she also opened workshops for tailoring, bakery, poultry, ironwork, shoe making and joiner workshops to provide orphans and widows with job. About this Zareh Orberyan, another pupil from the orphanage, wrote; "Workshops were opened in the orphanage soon, those, who did not show any ability to study, after finishing their primary education at the orphanage's school, were taken to shoemaking, lumbering, carpeting, painting and coaching workshops. Those boys and girls, who desired to study, attended the high school of Miss Shattuck, and those with more abilities, were sent to the College and the University".
However, seeing that only her institution was not enough for collecting orphans and hundreds of thousands of orphans still remained abandoned, decided to ask assistance from other missionaries. As a result of negotiations with Johannes Lepsius and the money and petition provided by the latter, she established German orphanage with fifty students in 1897. Later, the number of children in the orphanage reached 250. Besides, Professor Harris together with her friends opened an Orphanage in Urfa, and collecting 50 children, handed them over to the care of Corinna Shattuck.
The embroidery institution ("Nskhin Tun") established by Miss Shattuck also played a major role in the restoration of economic life of Urfa. The institution was also founded to provide employment to orphans and widows. Khatun Gorgikyan-Meghrikian, one of the masters of the institution, mentioned; "In Urfa there existed exquisite art of embroidery from very ancient times. Until now, "the works made in Urfa" were much respected. This is the art that Miss Shattuck worked to utilize and introduce to the outer world for the benefit of Urfa's orphans".
The next important goal of Corinna Shattuck was to restore education. Thanks to her efforts, the school of Urfa continued its activities in 1896-1901. And in 1902, together with her former pupil Mari Harutyunyan, who had lost her sight in an early age, founded a school in Urfa for the blind and published textbooks which she adapted to the Armenian language based on Braille's writing. With the help of British and foreign Bible companies, some versions of Bible were published in Armenian Braille unearthed. Miss Corinna Shattuck died in 1910.
Her work is heroic, but very few people are aware.
Her heroic deeds are best characterized by one of the local Armenians; "If there wasn't Miss Shattuck, we would not have endured pressure, and all of us would have been islamaized".
Narine Hakobyan AGMI Researcher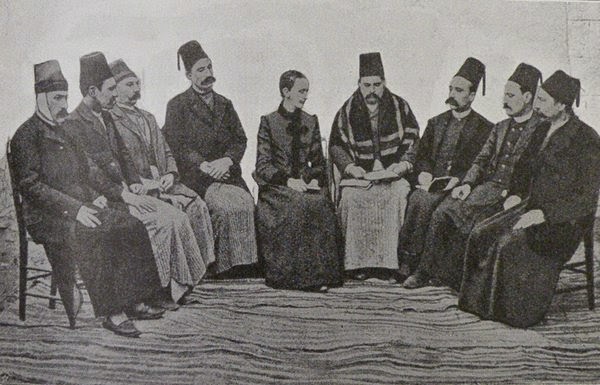 Miss Corinna Shattuck, head of the American mission in Urfa and local notables
Ferdinand Brockes, Quer durch Klein-Asien, Gütersloh, 1900)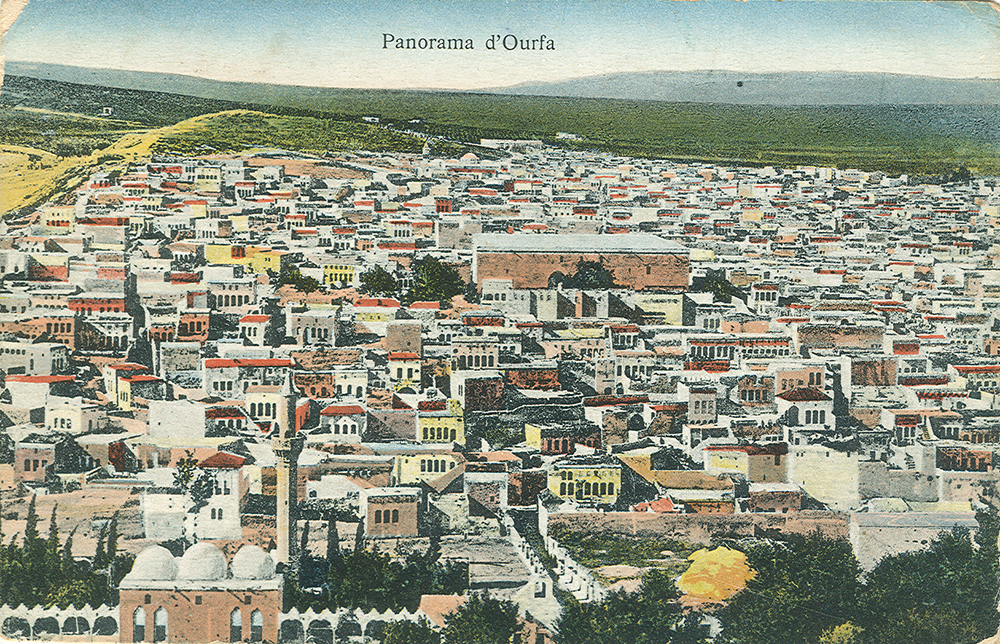 Panorama of the city Ourfa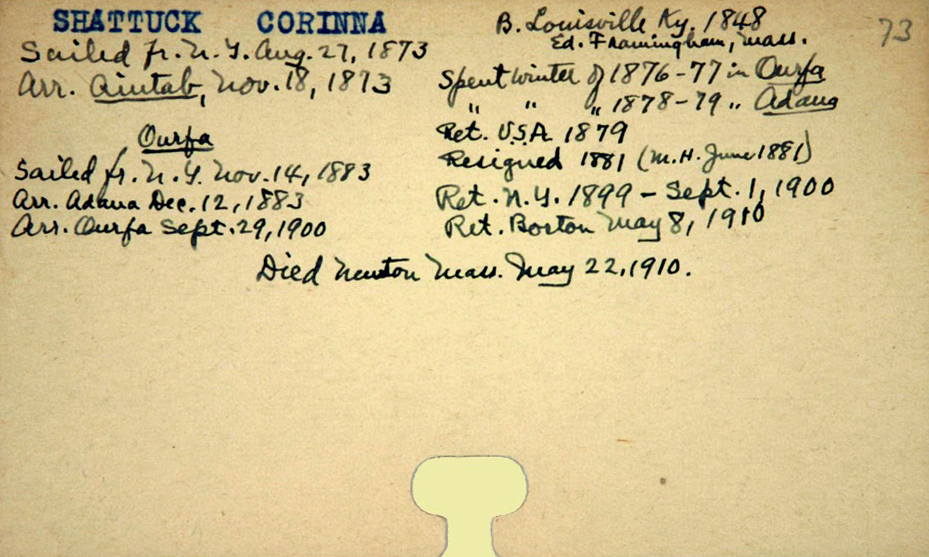 Personnel card for Corinna Shattuck an employee of the American Board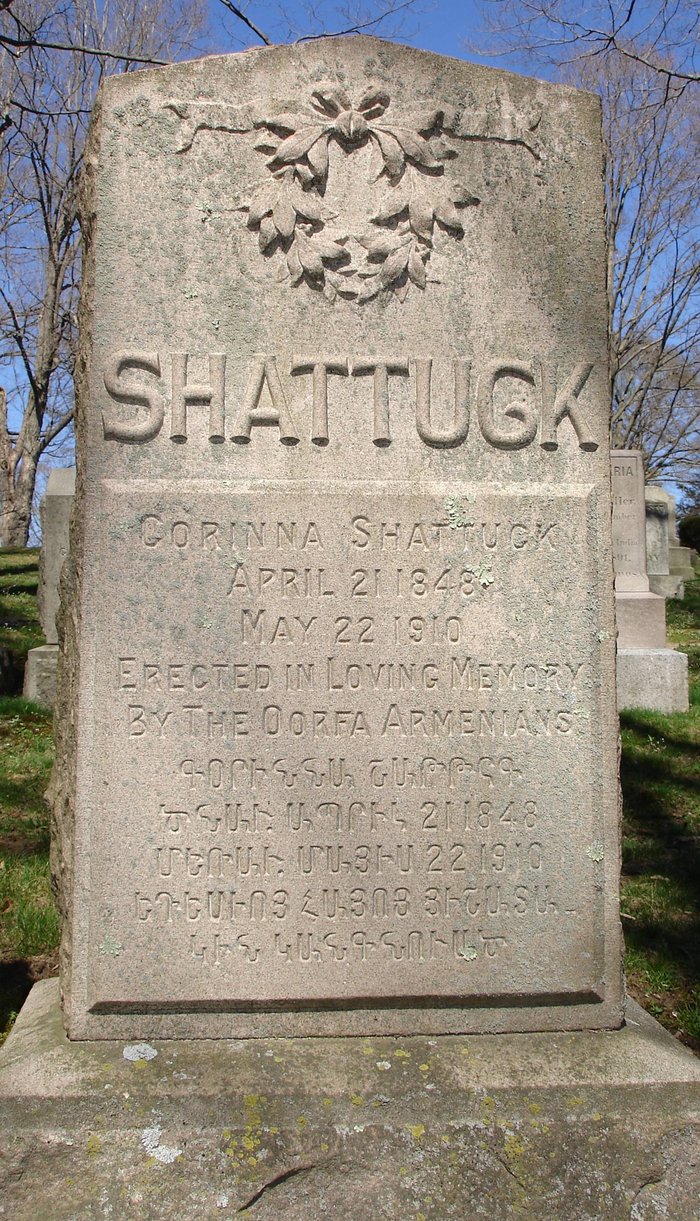 Corinna Shattuck's tombstone in Newton, Massachusetts