19.11.2018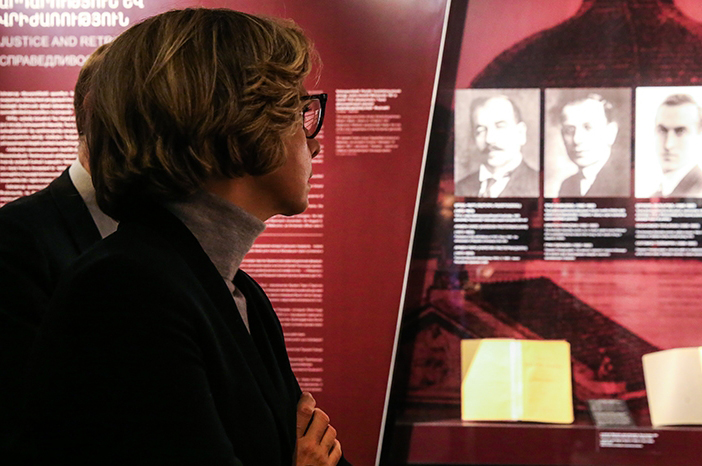 At the invitation of Yerevan Mayor Hayk Marutyan, on November 18, the delegation headed by the President of Ile-de France Regional Council Valerie Pécresse accompanied by the Deputy Mayor Sergey Harutyunyan visited the Armenian Genocide Memorial Complex. The Guests were welcomed by Harutyun Marutyan, the director of the AGMI Foundation, who also introduced the history of construction of the memorial complex and its symbolism.
Mrs. Pécresse laid a wreath at the Memorial, and put flowers at the eternal fire honoring the memory of the innocent martyrs of the genocide.
The director of the AGMI Foundation also accompanied the members of the delegation to the Memorial Wall and explained the meaning of its construction and the mystery it cares in itself.
The delegation headed by Valerie Pécresse also visited the Armenian Genocide Museum, and got acquainted with the museum exhibits and documents about the Armenian Genocide.
The guests from France also made a tour in the Memory Alley, where Valerie Pécresse planted a silver fir.
At the end of the visit, the President of Ile-de-France Regional Council in her speech, addressed to reporters, said:
"I am deeply shocked after this visit, especially by the museum. I'm shocked by the pictures on the walls and I have deeply comprehended the great political messages this museum carries. I think that one should continue bringing people to Armenia immediately and without hesitation, so that people can visit and discover this museum and see with their own eyes the kind of barbarism, cruelty and inhumanity by which the Armenian genocide was committed. For us, for the western people, the following is particularly striking, that how many countries were aware of the barbarities that were being committed in 1915, and most of them realized what was going on, but were simply unable either to help or prevent this barbarism, and Genocide. I think that after visiting this museum, one went out completely speechless".