27.03.2018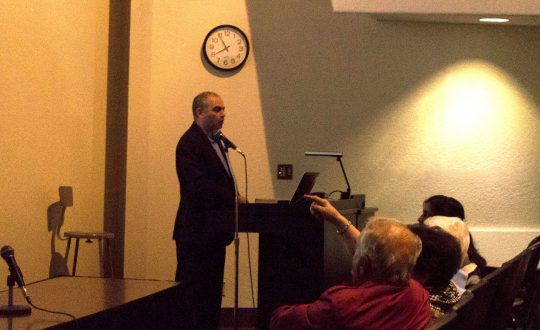 On March 19, Dr. Hayk Demoyan gave a lecture entitled "Multiple Identities and Memories of the Armenian World" at Fresno State's University Business Center.
The lecture, which was a part of the Armenian studies program spring lecture series, showcased the research of Hayk Demoyan. Demoyan's lecture examined how physical symbols of Armenian history like monuments, statues and stamps vary throughout different countries. He explained that through the construction of these physical entities, some try to frame history the way they would like it to be framed. This can lead to differing narratives among people.
An overarching theme of the lecture was that there are disputes regarding whether certain historical figures or events should be perceived positively or negatively.
Barlow Der Mugrdechian, coordinator of the Armenian studies program at Fresno State, said that although history is factual, people's personal opinions often interfere with how history is portrayed.
"There always are contesting versions of history. We always choose based on our own biases," Der Mugrdechian said. "It should be done on a factual basis. It shouldn't be done on the basis of trying to formulate the future."
Those who attended the lecture said that the knowledge brought by Demoyan was something to look at as the Armenian culture evolves.