13.10.2018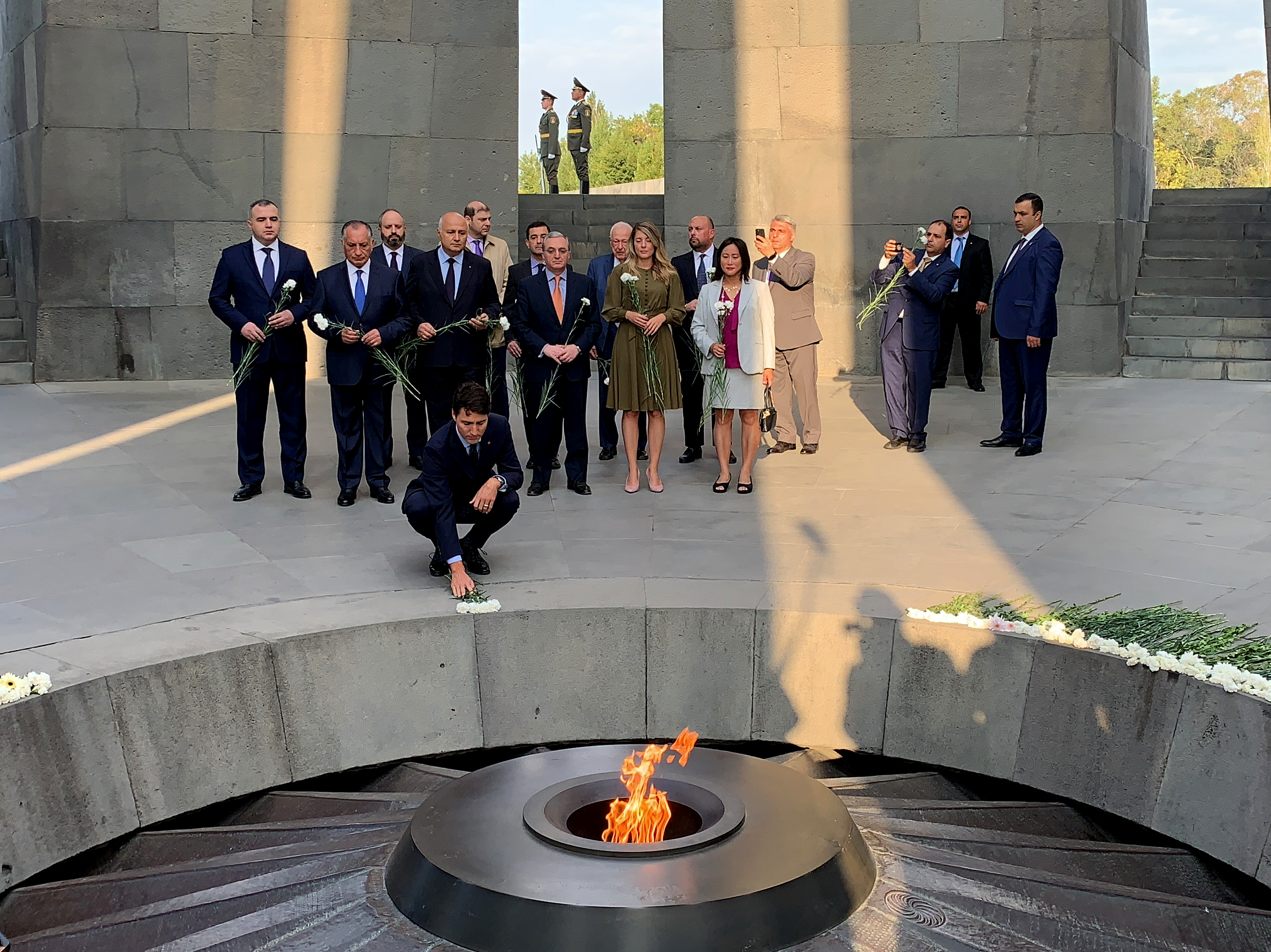 The Prime Minister of Canada Justin Trudeau accompanied by Zohrab Mnacakanyan, the Minister of Foreign Affairs of the RA, Levon Martirosyan, The Ambassador of The Republic of Armenia to Canada, Kamo Areyan, the deputy Mayor of Yerevan, and the representatives of the Armenian community in Canada visited the Armenian Genocide Memorial Complex. The guests were welcomed by the AGMI director Harutyun Marutyan, who also introduced to the guests the history of construction of the memorial complex and its symbolism. The Prime Minister of Canada laid a wreath at the Memorial, and with the members of delegation put flowers at the eternal fire honoring the memory of the innocent martyrs of the genocide.
The Prime Minister of Canada also visited the Armenian Genocide Museum, and got acquainted with the museum exhibits and documents about the Armenian Genocide. After a guided-tour at the Museum, Justin Trudeau left a note in the Memory Book of the Museum: "Today we remember the victims of the Armenian Genocide and solemnly swear not to let the history to repeat".
The AGMI director Harutyun Marutyan handed to the Prime Minister of Canada gold medal for the high-ranking guests and his book "The Armenian Identity: Genocide Remembrance and the Karabakh Movement" as well as Hayk Demoyan's work "Armenian Genocide: Frontpage Coverage in the World Press".
The guests from Canada also made a tour in the Memory Alley, where the Prime Minister planted a silver fir.
In 1996 Canada adopted a resolution condemning the Genocide. On June 13, 2002, the Canadian Senate recognized the Armenian Genocide and condemned any attempt to deny or distort the historical truth and call it by any other word than genocide. In Canada April 24 is the Day of Remembrance of 1.5 million Armenian victims of the 20th century first genocide. In 2004 the House of Commons of Canada recognized the Armenian Genocide committed by the Ottoman Turkey.